By John D. Sutter
CNN





(CNN) -- The online popularity contest between celebrity Ashton Kutcher and CNN heated up Thursday, with CNN overtaking Kutcher's lead on Twitter just before midnight Thursday.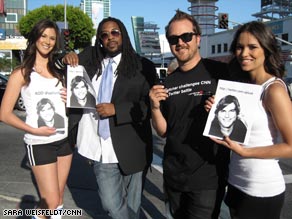 Ashton Kutcher fans pass out fliers supporting his Twitter page outside CNN's Los Angeles bureau Thursday.
Kutcher, who challenged CNN to be the first to 1 million followers on the micro-blogging site, had 990,983 Twitter followers as of 11:59 p.m. ET Thursday, but CNN's breaking-news feed rallied ahead with 991,103 followers.
Earlier in the evening, Kutcher's account had the most followers. The actor immediately took to the Web when he surpassed CNN and spoke live on Ustream.tv, thanking those who had followed him.
No single Twitter account ever has reached 1 million followers, according to two Web sites that track popularity on Twitter, a site where users post 140-character messages that are distributed to groups of followers.
Some online writers told CNN the contest is symbolic of the state of Twitter, which gained media attention because of its applications for news organizations but is starting to be dominated by strong personalities with cult followings.
The light-hearted contest also highlights some celebrity efforts to use their online popularity to draw attention important issues.
Kutcher has said, among other things, that if he wins the contest he will donate 10,000 mosquito bed nets to charity in honor of World Malaria Day. CNN has said it would match the offer. The World Health Organization says more than 700 million insecticide-treated bed nets are needed to adequately address the malaria epidemic, which killed about 880,000 people, mostly among African children, in 2006 alone, the organization says.
Kutcher joins King
Ashton Kutcher joins Larry King to talk about his Twitter challenge with CNN!
Friday night, 9 ET

Separately, actor Hugh Jackman posted this note on his Twitter account Tuesday, indicating he will donate $100,000 to a fan's favorite charity: "I will donate 100K to one individual's favorite nonprofit organization. Of course, you must convince me why by using 140 characters or less."
So far, Jackman has received Twitter responses from people interested in combating poverty, water shortages and discrimination against gay people, among other causes.
The online feud between CNN and Kutcher also is drawing attention to the popularity of Twitter, a social site that has seen breakneck growth over the past year.
Twitter saw 131 percent growth in March alone, with 9.3 million unique U.S. visitors that month, according to comScore. The group attributes the increase to media attention on the site.
"It seems you can't get through a typical newscast anymore without some mention of Twitter," a senior industry analyst writes for comScore.
Kutcher challenged CNN to the race with a Web video posted on Tuesday. If he wins, Kutcher says he will "ding-dong ditch" CNN founder Ted Turner's house.
Don't Miss
"I found it astonishing that one person can actually have as big of a voice online as what an entire media company can on Twitter," Kutcher says in a video, which was shot from inside a car and was posted on Qik.com.
"So I just thought that was just kind of an amazing comment on the state of our media, and I said that, if I beat CNN to 1 million viewers, then I would ding-dong ditch Ted Turner -- because I don't think it's gonna happen."

Watch video of Kutcher's challenge »
Kutcher has been posting like mad to his account since challenging CNN to the battle. The celebrity -- known for the TV shows "Punk'd" and "That '70s Show," as well as for being married to actress Demi Moore -- has offered to give his millionth follower a copy of the video game "Guitar Hero."
Electronic Arts, the video game maker, upped the stakes on Wednesday with this Twitter post:
"...We will put Ashton Kutcher's 1,000,000th follower in a future EA game (but only if Ashton beats CNN)."
At about 1 p.m. ET Thursday, Kutcher indicated on Twitter that a winner in the contest may be declared on Thursday.
"we have closed the gap to just over 12K. Today we decide if we want gatekeepers for social thought or democratization of media," he wrote.
Late Wednesday night, Kutcher said he feels like he needs to start preparing a speech for the moment he reaches 1 million followers. He joked that he would pull inspiration from Dr. Evil speeches in the "Austin Powers" movies.
The buzz stretched from Twitter onto Facebook, another popular social networking site, where Kutcher had more than 1 million fans on Thursday afternoon.
CNN maintains 45 official Twitter accounts, with a total of more than 1.3 million followers. Kutcher is racing the network's breaking-news feed specifically.
CNN's breaking-news feed on Twitter was launched three years ago by James Cox, a British Web developer, as a way to get CNN news alerts on his mobile phone, said CNN spokeswoman Jennifer Martin.
In a development unrelated to Kutcher's challenge, CNN acquired the rights to the Twitter account from Cox this week, said Martin, who would not disclose terms of the deal.
"We've been working closely with [Cox] for the past two years," Martin said. "It's a good example of how a large media company can partner with its audience in innovative ways."
CNN hosts Larry King and Rick Sanchez responded Tuesday to the Twitter race on CNN television. Watch Larry King's response

In a video message that aired on CNN's "Larry King Live," the talk show host grinned as he accepted Kutcher's challenge.
King also teased Kutcher about his threat to ring Ted Turner's doorbell and then run away, noting that Turner formerly ran CNN and is not directly associated with the network today.
Kutcher responded to the video on his Twitter account with this post: "ok larry king is now one of my new favorite people and this means war lets go tweeps."
King has invited Kutcher to appear on his show, "Larry King Live." Kutcher, saying "this is a saga for the Internet," asked King to come on his Internet show to settle things.
Some online writers on Wednesday said the goofy race may be a real symbol of what's to come for Twitter.
MG Siegler, a writer for TechCrunch, a technology news site, said Twitter has gained popularity largely through breaking news feeds.
If Kutcher wins the race with CNN, Siegler said, it may indicate a symbolic shift toward personalities dominating the site. iReport.com: Twitter, Facebook growing pains?
"When Twitter started out, it seemed like its most practical usage would be doing stuff like breaking news," Siegler said by phone. "There was all the earthquake news, all the fire news ... that made it pretty interesting to a lot of people. But now, obviously, Twitter's gone to the whole next level with all the news coverage and all the celebrities who are starting to use it."
Kutcher may seek popularity, but he seems genuinely interested in interacting with his followers, which is a key to success on the site, Siegler said.

Andrew Cherwenka, a Huffington Post contributor and Web developer at Trapeze.com, said celebrities are starting to realize they can use their large Twitter followings to enact social change.
"He's got a lot of people listening to him," he said of Kutcher. "What's he saying?"

E-mail to a friend

CNN.com's Brandon Griggs contributed to this story.
All About CNN Center • Larry King • Ted Turner • Ashton Kutcher