(CNN) -- The rumored Beatles songs were a no-show, but Steve Jobs -- Apple's own rock star -- is back.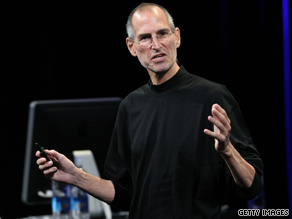 Apple CEO Steve Jobs hosted the company's music-themed event in San Francisco Wednesday.
Jobs, Apple's CEO, delivered the keynote address at the company's invitation-only event in San Francisco, California, on Wednesday, making his first appearance at an Apple event in nearly a year.
He received a standing ovation that lasted 45 seconds.
Jobs last appeared at an Apple event on October 14, 2008, when he unveiled a new lineup of Macintosh computers including the ultra-thin MacBook Air. He was on a sabbatical for the first six months of 2009 because of health-related issues, which included a liver transplant.
"I'd like to thank everyone in the Apple community for the heartfelt support," Jobs said in a soft voice. "I'm vertical, back at Apple and loving every day of it."
Wearing his trademark jeans and black mock turtleneck, Jobs told the crowd he has the liver of an organ donor in his or her mid-20s who died in a car crash. He also asked everyone in the audience to consider organ donation.

Watch Jobs thank donor »
Don't Miss
Jobs looked "quite gaunt -- much like he did before he took his leave," wrote Fortune magazine senior writer Jon Fortt, who attended the event.
Although Jobs introduced several new products, including iTunes 9 and upgraded iPods, his mere presence was the biggest news of the event, said Dylan Tweney, senior editor for Wired.com.
"It's huge, obviously. He is the mastermind of the new Apple and it's really good to see him back," Tweney said. "He's looking well -- thin, and some people were saying he sounds a little quieter and scratchier than before. But he's clearly doing well."
Jobs said the new iTunes store features easier navigation with a cleaner layout and bigger image display. iTunes 9 will have have a new look and a handful of new features, including "LP mode," in which users can download song lyrics, art and band and song information.
Users also will be able to download bonus features for movies, move files from one computer to up to five others and post information about songs and albums directly to Facebook.
For iPhone and iPod Touch users, Apple unveiled iPhone OS 3.1, which will allow users to download ringtones for iPhones for $1.29 each. These are premade ringtones, unlike the ones users can currently make for themselves in iTunes. Apple will make 30,000 of the ringtones available on Wednesday.
The App Store also will begin to make recommendations for applications using the same "Genius" recommendation technology that works on songs in iTunes.
The new iTunes will be available for download sometime Wednesday. The world's most popular online music site has sold more than 8.5 billion songs to more than 100 million account holders.
As expected, Apple also unveiled a new iPod lineup Wednesday, including new Nanos with video cameras, and slashed most of the music players' prices by $20 to as much as $120.

Watch Jobs unveil new iPod Nano »
The iPod Touch will be available in 8GB, 32GB and 64GB for $199, $299 and $399. The two higher-end versions will be 50 percent faster, Apple announced.
Despite rumors to the contrary, Apple decided to keep the iPod Classic, bumping up capacity to 160GB from 120GB and cutting the price by $20 to $229.
And the iPod shuffle will be offered in five different colors and will come with an adapter so it will work with any headphones. It got a price cut to $59 for the 2GB model and $79 for the 4GB version.
Many also anticipated Apple to announce that it had signed a deal with The Beatles to make the band's music available on iTunes. No such news came Wednesday.
The Apple event coincided with the legendary band's release of its new "The Beatles: Rock Band" video game and digitally remastered CDs. The Beatles are one of the few bands whose music has never been approved for sale as downloads on iTunes.
Wednesday's event closed with a live performance by singer-songwriter Norah Jones instead, which disappointed some observers who were expecting Beatles-related news.
"Clearly it's a loss for Apple that they don't have that," said Tweney of Wired.com.
Reaction to Apple's product announcements was mixed.

Watch Mashable's Ben Parr discuss the event »
"It's very good to see Steve Jobs back, but the expectations were blown out of proportion," said Trip Chowdry, an analyst with Global Equities Research. "The products are very good, but a camera on an MP3 player? That's innovation? Apple will have to come out with a category killer like the iPod or iPhone to continue to drive revenues higher."
Brian Tong, an editor at CNET, thought the event was "lukewarm" as far as introducing new technology. Rumors abound that Apple is developing a touch-screen tablet device, "but people who have been following it didn't really expect it to show up [Wednesday]," he said.
Tong was surprised to see Apple devote a chunk of Wednesday's event to promoting the iPod Touch as a handheld gaming device. The event featured demos by several game developers, including EA, which is bringing its popular "Madden NFL 10" to the App Store for the first time.
"They really were pushing it as a gaming platform [rivaling the Sony PSP or Nintendo DS] and that's something they've never done before," he said.

Shares of Apple fell 1 percent after Wednesday's event.
Tim Cook, Apple's chief operating officer, took the reins during Jobs' absence and delivered the keynote address at the World Wide Developer's Conference in June -- the last major Apple event.
E-mail to a friend

CNNMoney staff writer David Goldman and CNN.com's John D. Sutter contributed to this story.
All About Apple iPod • Steve Jobs