By Lauren Kornreich
CNN






WASHINGTON (CNN) -- So you're in D.C. for the inauguration. Now what?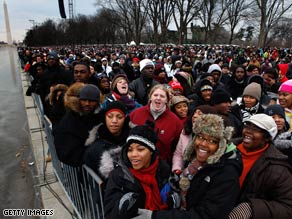 Crowds gather on the Mall in Washington, D.C., on Sunday for a pre-inaugural concert.
Imagine Times Square on New Year's Eve or a baseball stadium letting out after the World Series. Although the nation's capital has seen plenty of historic moments, officials are predicting that nearly 2 million spectators will come to Washington, D.C., for Barack Obama's inauguration, making this potentially the highest influx of people the city has ever seen.
With giant crowds, strict security and lots of road closures, what's the best way to survive the inauguration? Rebecca Pawlowski, spokeswoman for Destination DC, the city's official convention and tourism office, stressed that people need to have "patience, resilience and flexibility."
"What we're telling people more than anything is to be patient," Pawlowski said. "It's a lot of people to have in one space.
"But the people we've talked to are just so excited to be here, there's cause for celebration and people are excited about coming. But when you have that many people around you, I think being patient, dressing comfortably are important."
Aside from being patient, planning ahead and arriving early is crucial. Security checkpoints open at 8 a.m. for those with tickets for the swearing-in ceremony. Guests are advised to show up no later than 9 a.m. to make it in time for the start of the program at 10.
The swearing-in ceremony starts at 11:30 a.m. The Secret Service has provided a long list of prohibited items, like baby strollers and backpacks, so check the official Inauguration Day Web site for the most updated list.
But if you're not one of the lucky 240,000 ticket holders to Obama's swearing-in, you can still be a part of the inaugural celebration. The entire length of the National Mall, stretching nearly 2 miles from the Capitol to the Lincoln Memorial, will be open to the public for the first time, and that's where the bulk of revelers are sure to be.
To accommodate visitors, more than 20 supersized TV screens along the Mall will show the entire ceremony and parade. Map: Navigating the inauguration
Tickets for the bleacher seats along the parade route sold out in less than an hour, but you still have a chance to catch a glimpse of the new president in person.
Up to 350,000 people may be allowed to stand along Pennsylvania Avenue, but once the area hits capacity, people will be turned away. The security checkpoints will open at 7 a.m.
Ticket holders or not, everyone needs a way into the city for the main event. Some lucky visitors booked hotel rooms near the Mall or found a resident willing to rent out a couch or an entire apartment. Others might have to commute from as far away as Baltimore or even Philadelphia. Amtrak has added trains, but passengers should book in advance.
Driving is not recommended because parking is limited and many streets and bridges will be closed or have restricted access. If you're a good distance from the U.S. Capitol, the Metro system is your best bet to get downtown.
The Washington Metropolitan Area Transit Authority is offering parking in its station lots for $4, and Metrorail will provide rush-hour service from 4 a.m. to 9 p.m. Bus service along 23 highly trafficked corridors will be dramatically increased on Inauguration Day.
The Metro is expecting the highest ridership in its history, which means long lines and delays.
Spokeswoman Lisa Farbstein recommended that riders buy fare cards in advance and consider visiting a museum or restaurant after the big event, since not everyone will be able to use the transit system at the same time. Visitors need to plan their routes carefully, taking into account station and street closures. The Metro's trip planner may help.
Farbstein also said try to walk as much as possible, especially in cases when rail transfers will be avoided. Comfortable shoes are an absolute must.
"We'll get them as close as we can, and they're going to have to do some walking," she said. "We've been advising folks to expect to walk and we've actually advised people that if they live within 2 to 3 miles they might consider walking."
Bikes are another option, and although they are prohibited inside the security perimeter, they could provide a faster way to get around the streets outside.
The Washington Area Bicyclist Association will provide two bike valets, one near the Jefferson Memorial and another on 16th Street between I and K, where you can drop off your bike for the day and get a claim ticket. The association said it is prepared to park 1,000 bikes.
While you're on the Mall watching the ceremony, remember it's January and D.C. winter temperatures can vary widely.
Forecasters say the weather should be partly sunny and in the mid-30s, so wear a warm coat and enough layers to sustain you for several hours outside. Pawlowski also recommended bringing a granola bar and a bottle of water. Also, vendors will be selling food and drinks.
And then there's the question of when you gotta go, where do you go?
Inaugural planners have acquired 5,000 portable toilets for the National Mall. Based on a National Park Service estimate, that means one toilet for about every 300 people -- so expect to wait. One local Jiffy Johns dealer told WJLA that this event is the "Super Bowl of toilet events." Most of the portable toilets will be located in the public area of the National Mall.
As officials gear up, their advice is plan, plan, plan. Maryland Gov. Martin O'Malley said people shouldn't venture into the city on Inauguration Day without a clear idea of where they are going and how they are going to get there.
"This is not a typical day in our country's history. This is not a typical crowd," O'Malley said. "This is not like throwing the family in the van and heading down for a visit to the Air and Space Museum."

Although most museums and attractions will be open, Pawlowski recommends that people come back during a less busy time.
"We're encouraging people to take advantage of what's going on in D.C., but to consider coming back another time in addition to that, because this is the start of an exciting time in Washington," Pawlowski said.
E-mail to a friend

All About Travel and Tourism • U.S. Presidential Inauguration