By Valerie Streit
CNN





WASHINGTON (CNN) -- What would it cost to stay in a three-bedroom house in the heart of the nation's capital for Barack Obama's inauguration? Absolutely nothing, for those who don't mind bunking and bonding with perfect strangers.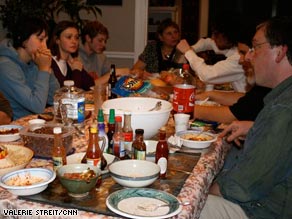 Nancy Rosenbaum, center, and Gil Glass, far right, share a meal with some of their 16 guests in Washington.
Members of a social hospitality network are opening their doors to inauguration-goers this week and providing them with a roof over their heads and maybe even a few meals.
"We read about the people who are renting their houses for $2,000 a night, and we thought, 'That's so in contradiction to what we believe,' " Gil Glass said. He and his wife, Nancy Rosenbaum, are playing host to 16 travelers in their three-bedroom, three-bath house.
"We figured, 'Why not throw the doors open wide and take as many as we can?' " he said.
Their guests are members of CouchSurfing.com, a nonprofit Web site that connects travelers with hosts in cities worldwide with the mission of enabling cultural exchange and understanding.
Couch surfers Michael Stoddard and Drew Hood drove 12 hours from Midland, Tennessee, to witness the inauguration.
"I'm completely surprised I'm here, truthfully," Stoddard said. "I asked 25 people, and they all turned me down" before he found Glass and Rosenbaum.

Watch couple welcome the travelers to their home »
Watch with CNN
Watch the historic inauguration of Barack Obama with CNN and the best political team on TV.
Coverage begins Tuesday, 10 a.m. ET

"We really wanted to come. It's a once in a lifetime experience," Hood said. "As soon as Barack Obama was elected, I knew I wanted to go to D.C."
Mary Bolling was happy to decompress when she arrived at the home. She had a long and exhausting journey to Washington from Melbourne, Australia.
"I'm here to see the 'real' America and meet some of these awesome people who voted for Barack," Bolling said.
Washington is the first stop in a six-month trip she is taking across the United States.
Another guest in the home, Nisha Chauhan of London, England, spent three days traveling by plane and bus to make it to the inauguration.
"It's very exciting to be part of history and part of the huge celebration," she said.
Since July 2007, Glass and Rosenbaum have played host to more than 100 people from every continent except Antarctica.
Don't Miss
"We made some really great friends," Glass said. "We loved them so much we threatened to adopt them."
CouchSurfing.com, a free service founded in 2004, has more than 900,000 members, according to co-founder Daniel Hoffer. The average age of members, who post their profiles online for prospective hosts to see, is 27. The United States has the largest number of members, followed by Germany and France.
Glass and Rosenbaum make it clear that their house is not a bed and breakfast. They are motivated to participate for the possibility of a cultural exchange, and they generally avoid freeloaders.
"If they're looking for a free place to crash or a place to party, then we're not the right hosts for them," Rosenbaum said.
But a cultural exchange might be an impossible feat with 16 people sprawled in their attic, basement, living room and guest room.
"In this case, we're more interested in providing a place to those who want to share in this historic occasion," Glass said.
Another Washington-area host, Tarek Maassarani, described the inauguration as the perfect backdrop for a quintessential couch-surfing experience.
"People are coming here for an incredibly historic event but also a D.C. event. As a six-year resident, I feel a certain pride for showing people what to check out," he said.
Maassarani is housing 15 strangers in his home in Takoma Park, Maryland.
"Right now, we have folks from Serbia, Italy and Argentina.... We have a couple couches, some rug space on the floor, maybe a free bed upstairs," he said.
The idea of putting up a complete stranger, let alone 16, may not appeal to everyone.
"Our non-couch surfing friends think that we're out of our minds. We've invited them to come and witness the spectacle," Rosenbaum said.

One Washington couch surfer, Alayne Unterberger, who drove from Tampa, Florida, with four others, scored a private bedroom even though she is one among 15 couch surfers in her host's home.
"I couldn't rent a house or a hotel. I wouldn't be here otherwise.... When we got here, they gave us breakfast and coffee. They were so welcoming," Unterberger said.
E-mail to a friend

All About Barack Obama • U.S. Presidential Inauguration