By Jessica Ravitz
CNN





(CNN) -- Gone are the days, it seems, when executives can comfortably lounge poolside, expensing meetings and meals along with margaritas and massages.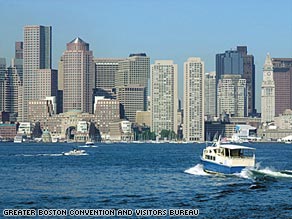 Boston, like many American cities, is facing a new economic reality with a drop in business travelers.
Especially for those employed by companies that benefited from the billions of federal bailout dollars, those kinds of luxuries are going downhill faster than a CEO on a triple black diamond ski slope.
As President Barack Obama, Congress and the financially anxious public continue to cry out for corporate responsibility, what does this crackdown mean to American cities and to industries that are fueled by business travelers, conventions and meetings?
"January was a disaster," said Don Singh, a Las Vegas, Nevada, taxi driver, who added that he brought home about half of what he did the previous year.
"We used to be so busy that we had to put extra medallions [cabs] on the road," he said. But when the companies sent out extras last month, "We were sitting around with our fingers up our noses."
The impact of travel and meeting cutbacks is greater than Americans realize, said Bruce MacMillan, president and CEO of Meeting Professionals International. For one, he said, businesses can't be expected to bounce back and realize success if they can't bring people together for face-to-face time, to "share solutions, commiserate and innovate."
But beyond what these gatherings do for those who gather, there are plenty of other people, like Singh the cabbie, who are affected by these meetings. Meeting Professionals International estimates 2.4 million jobs -- including everything from bellmen, restaurant wait staff, airport workers and more -- are impacted when the meeting industry takes a hit.
Sandy Shaver, general manager of Las Vegas' Desert Cab, where Singh works, said business patterns have completely changed.
"It used to be some of the most profitable hours were from 2 a.m. to 4 a.m., with conventioneers going from one gentleman's club to another," he said. "Our day shift is now outproducing our night shift."
In a time when perception is everything, resort destinations seem to be feeling the meeting and convention loss more than others. Consider it part of a backlash started in the fall by insurance giant American International Group (AIG) which, just one week after accepting $85 billion from the federal government, allowed executives to spend $440,000 at a luxury spa and resort in Southern California.
Mayor Oscar Goodman of Las Vegas grabbed national headlines this month when he called for an apology from Obama after the president said at an Indiana town hall meeting that companies shouldn't be jetting off to Vegas "on the taxpayer's dime."
His words were in response to the previous week's report of a planned Wells Fargo employee recognition meeting in Sin City, which was quickly scrapped. The day Obama spoke, Goldman Sachs (which like Wells Fargo was a bailout recipient) opted to move its three-day conference from the Vegas strip to less eyebrow-raising San Francisco.
Cities like St. Louis, Missouri, on the other hand, are emerging from the scrutiny relatively unscathed.
"No one's afraid to say they're going to St. Louis," said Kathleen Ratcliffe, president of the St. Louis Convention and Visitors Commission. "They're not concerned about how it would look to stockholders."
Beyond the clean image, St. Louis is centrally located in the country, accessible by four interstates and, perhaps most important to bottom lines, is "probably the most affordable city in the top 25 markets in the country," she said.
Many places are reassessing their approaches as they realize their potential revenue base is changing.
Take Boston, Massachusetts, for instance, where Patrick Moscaritolo, president and CEO of the Greater Boston Convention and Visitors Bureau, said individual business travelers, the kinds who might spend 250-plus nights a year on the road, had traditionally filled 40 percent of the city's hotel rooms.
"The road warriors which for years had sustained our industry are now chained to their desks, if they in fact still have desks," he said. "We're seeing occupancy drop off dramatically compared to the first part of 2008."
Leisure travelers, too, are on the decline in Boston, but fortunately the convention industry, something that had previously accounted for just 30 percent of Boston's draw, is standing out as "the one shining light," Moscaritolo said.
Large association meetings in particular, the kinds that include continued education and networking opportunities (such as this month's American Bar Association meeting), are pulling big numbers, he said.
To keep companies and associations coming, Boston and some other cities are devising special packages offering discounted hotel and airfare rates, restaurant deals and shopping coupons.
A special "Faith in Phoenix" push is helping cultivate a market that's attracting religious group meetings to the Arizona city, said Scott Dunn, communications manager for the Greater Phoenix Convention and Visitors Bureau. Already on the books: the Southern Baptist Convention, Unitarian Universalists and the Mennonites.
Such gatherings show that often it's the meaning and meat of a meeting that matters most.
When the AVN Adult Entertainment Expo kicked off in Las Vegas in early January, Sean Devlin, the show's spokesman, said he wasn't sure what to expect, "given the economy and what, in particular, Las Vegas is going through."
The annual gathering, however, which draws industry professionals, performers, media representatives and hordes of fans, had about 20,000 attendees. Numbers were down 14 percent from the previous year, but compared to the estimated 22 percent attendance drop at the nearby International Consumer Electronics Show, adult entertainment stayed relatively hot.
"In terms of this product line, there is an enduring attraction," Devlin said with a laugh. "Give them compelling content, the consumer will show."
E-mail to a friend

All About Business Travel • Tourism