By Mike M. Ahlers
CNN





WASHINGTON -- Some $1 billion in federal stimulus money will land in the nation's airports, where it will be used to improve systems to check for explosives and weapons, the Department of Homeland Security said Thursday.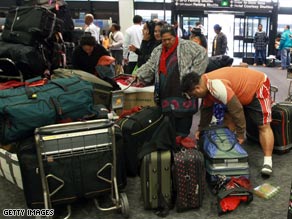 San Francisco International Airport is one of 17 eligible to share in $1 billion in stimulus funds.
About $700 million will be distributed to as many as 17 airports to speed up construction of in-line explosive detection systems. In-line systems take advantage of the airline's existing conveyor belt systems to check bags, eliminating the need for minivan-size bomb detection systems now found in many airport lobbies.
The funds will allow the federal government to meet its goal of having in-line systems at the nation's 277 busiest airports two years ahead of schedule.
The remaining funds of $300 million will be spent on new technology at airport checkpoints, including new X-ray machines, "whole body imaging" technology and bottled liquid scanners.
Homeland Security Secretary Janet Napolitano said the money is a "great opportunity" to improve security while stimulating the economy.
"The proposed construction projects are projected to create more than 3,000 jobs and will continue our security strategy of risk-based application of assets and funds," she said.
The $1 billion is part of the $787 billion economic recovery package that President Obama signed into law two weeks ago.
Government auditors have long complained about existing systems for screening checked luggage, which the Transportation Security Administration rushed into place to meet congressional deadlines after the September 11, 2001, terrorist attacks.
Don't Miss
Those systems require passengers to haul their luggage to large, standalone detection machines, which cost from $400,000 to $1.2 million each. There, TSA officers place the luggage into the machines.
At airports with in-line systems, airline workers at the ticketing counters place the bags on conveyor belts, which pass through explosive detectors on their way to the aircraft.
A stand-alone machine can process about 150 to 160 bags an hour, whereas an in-line system using the same equipment can process up to 500 bags an hour, the TSA says. In-line systems could save the federal government about $1 billion over seven years, it says.
TSA spokeswoman Sterling Payne said the old machines will be retired, sold or used at smaller airports.
The TSA on Thursday sent letters to 17 airports informing them they are eligible for money for in-line systems, provided they meet certain conditions. Among other things, the airports must pay for a portion of the systems -- either 5 or 10 percent, depending on the airport's size.
The eligible airports are in:
• Anchorage, Alaska
• Atlanta, Georgia
• Columbus, Ohio
• Dayton, Ohio
• Honolulu, Hawaii
• Huntsville, Alabama
• Jackson Hole, Wyoming
• Maui, Hawaii
• New Orleans, Louisiana
• Orange County, California
• Orlando, Florida
• Philadelphia, Pennsylvania
• Portland, Maine;
• Sacramento, California
• San Francisco, California
• San Jose, California
• Tallahassee, Florida

E-mail to a friend

All About Transportation Security Administration • U.S. Department of Homeland Security • Transportation • Economic Stimulus