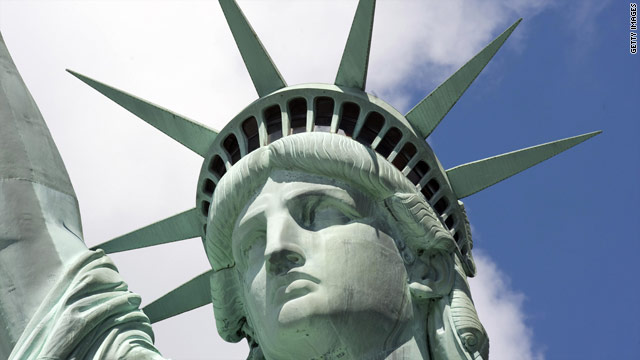 STORY HIGHLIGHTS
U.S. welcoming fewer overseas visitors, despite growth in international travel
Some want travel promotion group that tourists would pay for with $10 fee
Opponents say it's unfair for U.S. to charge tourists to promote itself
U.S. economy makes promotion critical, tourism firm official says

(CNN) -- Kenyan artist Nicholas Sironka received a warm welcome to the United States when he first visited in 1999 -- a reception he's missed since.
"I came and it was joyful -- people receive you with smiles at the airport. Today, it's so tense," said Sironka, a Masai tribe member who spent time in the U.S. as a Fulbright Scholar before the terrorist attacks in September 2001 prompted tightened security and entry requirements.
"It is good to be a superpower, and we wish you the best in everything you do to keep out bad people. But what about the good people? Should they be treated the same as the bad people?" said Sironka, who has returned to the U.S. more than a dozen times. "There is a courtesy that used to be there that needs to come back."
Sironka's experience hits on one of the reasons the U.S. Travel Association says overseas visitation to the United States has yet to recover to pre-9/11 levels.
Despite strong global growth in long-haul international travel between 2000 and 2008, the U.S. welcomed 633,000 fewer overseas visitors in 2008 than it did in 2000, according to figures from the U.S. Department of Commerce. Calculations for overseas visitors do not include arrivals from Mexico and Canada, the top two tourist-generating countries for the United States in 2008.
The lag in the growth of overseas visits can be attributed to a difficult visa process, a lack of national promotion and a negative perception of how people are treated upon arrival, said Roger Dow, the U.S. Travel Association's president and CEO.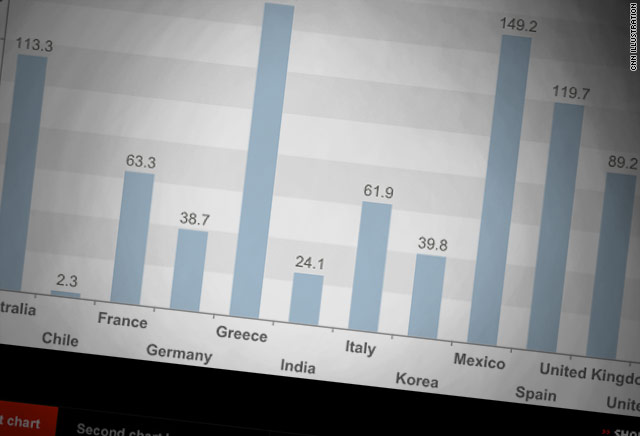 See U.S. travel numbers
While strides have been made in recent years, he says, it takes time for those changes to be recognized.
"It's like if you go to a restaurant and you've known there's a three-hour wait every time you want to go. ... And then two years later they fix it, but you've stopped going there," Dow said.
Getting the word out about what's happening and what the United States has to offer is key, Dow believes.
"We don't promote the United States. Every other developed country in the world spends millions -- some countries spend 150 to 180 million dollars [promoting tourism]," Dow said.
In 2005, the most recent year for which figures have been compiled, national tourism organizations in Greece, Australia, Malaysia, Mexico and Spain each spent more than $100 million marketing inbound tourism, according to research conducted by the United Nations World Tourism Organization. France, the world's top destination for international arrivals last year, spent more than $63 million in 2005, while the United States spent just over $6 million.
The recent passage of the Travel Promotion Act in the U.S. House and Senate brings the United States a step closer to widespread national promotion. Because of legislative procedure, the act requires a final vote in the Senate. Dow's association hopes the legislation will receive the vote in the coming weeks.
The act calls for a nonprofit Corporation for Travel Promotion that would promote the United States as a travel destination, giving equal attention to rural and urban areas.
Segments of the travel industry -- including large destinations, cruise lines, airlines and hotel chains -- have the means to promote themselves privately, but that leaves out national parks and forest lands, rural communities and the small businesses that make up most of the industry, according to Kristin Lamoureux, director of the International Institute of Tourism Studies at The George Washington University.
"This is an opportunity to brand the U.S.," she said.
Funding for the public-private organization would come in part via a $10 fee charged to visitors from countries included in the Visa Waiver Program who don't have to apply and pay for visas. Visitors would pay the fee every two years when they register online using the new Electronic System for Travel Authorization.
Some opponents say charging tourists to fund promotion will deter overseas visitors from coming to the United States and may cause other countries to levy new fees on American visitors.
"We don't want foreigners to have to jump through so many hoops that they just give up and don't bother coming to the U.S.," said Steven Lott, a spokesman for the International Air Transport Association, which represents airlines around the world.
"I think focusing our attention on making entry and exit procedures easier would go a long way to help tourism, rather than fancy videos and shiny posters," he said.
Marianne Botoft and Line Andersen, 26-year-old massage therapists from Copenhagen, Denmark, who recently visited New York City, disagree with the proposed fee.
"It's not fair that people that come to the country have to pay for the country's promotion of itself," Botoft said. Her friend Andersen agreed: "It's not fair. We're spending a lot of money already."
Overseas visitors to the United States in 2008 spent an average of $4,500 each. Visitors from Canada and Mexico, who take shorter trips, spent about $871 per trip, according to the U.S. Travel Association. Overseas visitors make up 80 percent of the United States' international travel receipts, while amounting to only 44 percent of international arrivals.
Oxford Economics, an economic consulting and forecasting company, estimates a well-executed promotional program would draw 1.6 million new international visitors annually and generate $4 billion in new visitor spending. The Congressional Budget Office expects the program to reduce the federal budget deficit by $425 million in the next 10 years.
The current economic climate makes promotion more critical, said Adam Sacks, managing director of Tourism Economics, an Oxford Economics partner firm.
"You've got a shrinking pie ... you're not going to be just enjoying a rising tide -- you've got to go out and get market share," he said.
International tourism started to drop off globally in the second half of 2008, and this year, international tourist arrivals worldwide have declined by 7 percent from January to July, compared with the same period in 2008, which was still strong.
The United States' improving global image also makes plans for increased promotion timely, Sacks said.
"I think the U.S. has a particular opportunity right now because it's in the process of refurbishing its brand in the global arena politically," he said. "There's a direct relationship between opinions about the U.S. and willingness to travel here."
FOLLOW THIS TOPIC