By Stephanie Chen
CNN






(CNN) -- A trip to Vegas might sound like a gamble, but deep discounts make it a better bet than it's been in years.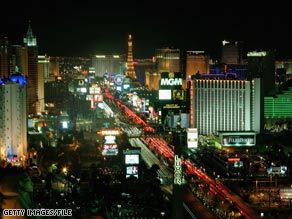 About 37.5 million people visited Las Vegas in 2008, down 4.5 percent from the year before.
In an era when many travelers' wallets are tightening, airlines and hotels are slashing rates to Las Vegas, Nevada, and giving away vouchers for shows, restaurants and spas.
"Vegas is a tremendous value right now," says Genevieve Shaw Brown, senior editor at Travelocity. "This is one of the best times in years to visit."
Airlines faced with low passenger capacity are extending airfare sales that usually wrap up in March until at least May, offering fares from $25 to $75 dollars off a round-trip ticket.
Meanwhile, many hotels and resorts battling lower occupancy rates are luring travelers with rooms that cost about 30 percent less than they did a year ago. And the city, which experienced less tourism spending in 2008, is excitedly awaiting more visitors to cash out.

Compare flight prices to Las Vegas from 2008 and 2009 »
Online travel giants like Expedia, Travelocity and Orbitz are offering all-inclusive packages with flights and two-night hotel stays starting as low as $270.
"We realize we are in difficult economic times, but we understand that people want to take a break and still have a good time," says Vince Alberta, spokesman for the Las Vegas Convention and Visitors Authority (LVCVA). "Vegas is the place to do that."
About 37.5 million people visited Las Vegas in 2008, down 4.5 percent from the year before, reports the LVCVA. iReport.com: Submit your photos of Vegas
In the last decade, there has been a movement to make Las Vegas a high-end destination by inviting celebrity chefs and adding resorts and designer shopping, says Anthony Curtis, president of LasVegasAdvisor.com, a Web site following Las Vegas tourism. But, Curtis, who has tracked tourism in the city for the last 20 years, says the economy is changing that now.
"It's back to old Vegas again," he says. "They are bringing customers in with cheap prices and then letting them spend their money when they get there."
The visitor decline began last spring when tourist traffic began to dip amid skyrocketing fuel prices. Crunched airlines could no longer make a profit flying to Las Vegas, so they began cutting routes. Then, they were hit again by the economy's deep tumble last fall that further strained their profits.

See photos of Las Vegas »
By December 2008, Las Vegas McCarran International Airport reported a 7.7 percent drop in passenger levels year over year, marking the sharpest decline since 1981. Southwest Airlines Co. cut airfares to Las Vegas in half during a two-day sale in December.
"The airlines are out there flying blind, and they are willing to take some bookings they wouldn't do historically," says Rick Seaney, CEO of FareCompare, an airfare research Web site.
Luxury hotels responded to the declining number of visitors by cutting their rates to offset rising airfares. Five-star hotel rates dropped by about 35 percent this January compared with the same period last year, according to several online travel companies.
The low airline and hotel rates will enable travelers to upgrade, and some travelers are already taking advantage, travel experts say. Hotel room rates often are lowest on weekdays. The five-star Venetian and Bellagio hotels are promoting rates less than $170 a night. The rooms usually go for around $300 a night.
"We've never seen the changes quite so dramatic and quite so erratic in such short periods of time," says Scott Voeller, vice president of hotel marketing and advertising for the five-star Mandalay Bay Hotel, an MGM Mirage property. Mandalay Bay is offering rooms for $90 a night, and customers purchasing certain packages with a minimum two-night stay will receive a free round-trip flight for a future visit to Vegas.
And if you're looking to save more, less upscale hotels are touting hostel-like prices. The Sahara Hotel & Casino is selling rooms from $19 a night, according to the hotel's Web site. The Imperial Palace, owned by Harrah's License Co., is offering weekday rates as low as $35 a night.
Hotels are even sweetening the deal with add-ons such as gift certificates for massages and fine dining. The Palms Hotel offers a $50 credit for food with some reservations, according to Expedia. Customers purchasing a three-night package at any MGM Mirage Las Vegas property will receive complimentary tickets to a Cirque de Soleil show.
"The economy has been slow everywhere," says Colleen Stiritz, director of The Spa at Trump Hotel, who began to feel the impact last fall. Stiritz says she is seeing a boost in business ever since the Trump Hotel promoted a $50 spa gift certificate with bookings.
One of the most cost-effective ways to visit is to book packages, say travel agents. Expedia is offering package rates with airfare from Seattle and two nights at the Planet Hollywood Resort and Casino for about $269 a person. A flight from New York with two nights at the New York New York Hotel and Casino runs about $336 a person.
While there is no clear picture on when the deep discounts to Las Vegas will end, travel experts say they could end as soon as the economy looks up. Online travel companies say they are seeing travelers respond to the deals quickly. Expedia officials say they saw record bookings to Las Vegas on several days in January.
But it seems that challenges lie ahead for Sin City.
The economy's outlook appears dim. Layoff announcements are scaring travelers, many of whom are already waiting later to book flights in the event they have to forgo the trip completely. The U.S. Travel Association predicts the total number of domestic leisure trips will drop by 1.4 percent in the coming year.
Even as travelers snag deals to Vegas, studies are showing that visitors are spending less. The Las Vegas Convention and Visitors Authority reports that in 2008 leisure travelers spent $701 on average per person for each trip, not including gaming, compared with $750 in 2007.
But Eugene Moehring, professor of urban history at the University of Nevada-Las Vegas, says the city has bounced back from past economic crises. After the economic slump of the 1980s, Las Vegas managed to reinvent itself with the mega resorts such as the MGM Mirage. Since then, the city has broadened its attractions from just gambling to shopping, upscale dining, golfing, nightclubs and shows.

On a Thursday night a few weeks ago, a bar at the Mandalay Bay Hotel was packed with tourists and convention-goers, showing hardly any signs of the economic slowdown, he says.
"Vegas has that 'wow' factor," he says. "As long as they can keep doing that, people are going to come."
E-mail to a friend

All About Bellagio Las Vegas • Las Vegas • MGM Mirage Inc.