By Reid Bramblett





(Budget Travel) -- Farmstays, villa rentals, mountain refuges. Six ways to immerse yourself in the real Italy.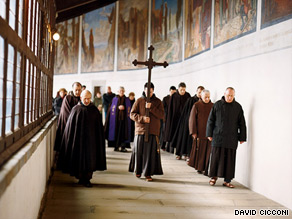 Il Santuario della Verna, in Tuscany, welcomes guests of all faiths.
THE B&B
Ever wanted an Italian mother (for a night)?
The bed-and-breakfast -- Italians use the English phrase -- is a growing trend in Italy that didn't really exist 20 years ago. As with B&Bs anywhere else, the experience is made by chatty proprietors, the best of whom take guests under their wing and share tips over breakfast. The B&Bs are distinguished by the details -- whether you get to spread a flaking cornetto (croissant) with fig jam or meet the owner's kids, the point is total immersion in Italian living.
Our pick: In the heart of postcard-perfect Ferrara, one block from the main piazza, Adele Orlandini has been running Locanda Borgonuovo since 1994. The four graceful rooms, each with its own bath, are filled with a pleasing jumble of antiques. Orlandini takes breakfast seriously, baking homemade tortes and cakes and serving them alongside cheeses, preserves and fresh fruit in a living room hung with more than 50 works of art.
Orlandini is in love with her hometown and eager to help guests experience it, whether that means securing reduced-price tickets to museums or suggesting off-the-radar highlights, such as an unmarked palazzo with newly restored Renaissance frescoes. With such service (and low rates), the Borgonuovo books up far in advance, which is why Orlandini recently acquired three efficiency apartments in the building next door: two mansard suites with rooftop views and a larger flat -- all with full kitchens. Budget Travel: Check out these authentic Italian lodging options
via Cairoli 29, Ferrara, 011-39/05-32-211-100, borgonuovo.com, doubles from $118.
Or find your own: Together, the sites bed-and-breakfast.it and bbitalia.it have the biggest inventory in Italy, with more than 10,000 listings on hand.
THE FARM
The perks of pastoral life -- minus the work.
Enterprising farmers -- 18,600 and counting -- have begun opening their doors and converting their family farms into agriturismi, inns with usually a maximum of 30 beds each, which generate no more than 30 percent of a property's income. Bucolic settings are a given, but rooms vary widely.
You could find yourself in a frescoed Renaissance chamber...or a former barn stall. Rest assured -- guests are rarely invited to help out with chores. Instead, your hosts may crack open a bottle of homegrown wine and spend the evening chatting you up on the patio. More and more agriturismi are also opening on-site restaurants, where the tomatoes for a five-course meal are plucked right from the neighboring fields.
Our pick: Bernardo Pellegrini, a descendant of a noble Veronese clan, has turned his family's hunting lodge into an organic farm growing grain, soy, vegetables and fruit. The Azienda Agrituristica Corte Pellegrini, built around 1700, has 11 rooms with plank floors, brightly colored walls and painted armoires and chairs.
The place has all the comforts of a resort -- minibars, a swimming pool, Wi-Fi -- as well as unique perks: Birdsong is your morning wake-up call, and a herd of goats, a donkey and a miniature pony await near the creek that burbles down one side of the 74-acre property. Behind the main building, an airy stone-and-brick barn houses a refined dining club (under separate management) that serves four courses of such dishes as asparagus with poached egg or artichoke ravioli with sage butter.
via Campalto 18, San Martino Buon Albergo, 011-39/045-882-0122, cortepellegrini.com, doubles $100, entrées from $26.
Or find your own: "Italian Farm Vacations," available on Amazon, is a good starting resource for ideas. And agriturist.it lists contact information for more than 1,600 agriturismi around the country.
THE MOUNTAIN REFUGE
Go off the grid, Italian style (you'll eat well).
Italy's Alpine escapes -- called rifugi -- range from woodland hostels in the low hills of Sicily to the Capanna Regina Margherita, a steeple-shaped wooden structure atop Monte Rosa in the Alps (at 14,957 feet, it's Europe's highest mountain refuge). They all have their own take on Alpine flair, but most share details: cozy bunks with thick blankets, a common room filled with ruddy-faced outdoorsy types and killer views. Budget Travel: The Italian village that became a hotel
Our pick: You don't have to hike two days into the wild to find a mountain retreat that feels gloriously isolated. The Rifugio Nino Pernici is just a few hours from Lake Garda, near Trentino, and only a 20-minute walk from the nearest parking lot, yet it backs up to the high, toothy cliffs of the Ledro Alps.
Passing hikers stay in one of 30 dorm-style beds and fill up on hearty meals: polenta with goulash or rabbit stew, grilled pork and sausages with sauerkraut. It's a communal affair -- German mountain bikers and Italian hikers sit elbow-to-elbow at long picnic tables, sharing tips as they pass the bread. A 2008 renovation added more windows and fortified the building against cold weather. Now the refuge extends its season into the winter, remaining open on Sundays from October though early March.
Bocca di Trat, 011-39/0464-591-462, pernici.com, $55 per person, including breakfast and dinner.
Or find your own: The Club Alpino Italiano owns 600 rifugi and maintains an online database, but it often lacks necessary info such as rates or Web sites for individual lodges; cross-reference with the regional CAI groups, under "Le Sezioni del Cai" on cai.it. Many rifugi are open only during the summer hiking season (usually June to late September), though some are partially open year-round. A mattress and blanket are provided, but you must bring your own sleeping bag. Note: There can be a 30 percent charge for heating in winter (December to April).
THE RENTAL ROOM
Live just like a local, without signing a lease.
One of the least regulated hotel categories in Italy, affittacamere (rental rooms) run the gamut from a bare room with a cot to a plush private studio. The best are real hidden secrets -- and great deals. And the better the deal, the more likely there are some slightly odd unwritten rules. Tip: If the owner asks you to pretend, should anyone ask, that you're her nephew's friend in town for a visit, just go with it. She's merely engaging in the millennia-old Italian art of avoiding taxes.
Our pick: Million-dollar views of the Duomo, a high-ceilinged room with a canopy bed, breakfasts of pastries and cappuccino brought to the door: Name a hotel in Florence that comes close to delivering those kinds of goods, especially for $118 a night. Located right off the Duomo square, La Residenza del Proconsolo once belonged to the Pazzi family, infamous for trying to assassinate Lorenzo "the Magnificent" de' Medici in the 15th century.
In 2004, an only slightly less ambitious family, the Marianos, renovated the palazzo themselves and now rent out five rooms of the old piano nobile (the "noble floor," where the aristocratic family once had their private quarters). Ask for Leonardo, with its curtained bed and tall windows, or Brunelleschi, with a four-poster bed and a wrought-iron balcony; both are on the front of the building, with lofty proportions and nothing standing between you and Brunelleschi's cathedral dome just a few dozen yards away.
via del Proconsolo 18, Florence, 011-39/335-657-4840, proconsolo.com, doubles from $118.
Or find your own: Affittacamere rarely show up on booking engines but are increasingly available on local tourist office Web sites (see below). If you're in Italy, use the "affittacamere" section of the pagine gialle (yellow pages). Most rooms are booked the old-fashioned way: over the phone or in person, after you see a sign and ring the doorbell.
THE VILLA
Go ahead and make like you own the place.
When you're with a group and spending a week or more away, nothing's more idyllic than setting down someplace spectacular and staying awhile. But for all the pluses, villa rentals do require a compromise: There's no front desk, and linens are usually changed weekly, if at all. Then again, that sounds like home.
Our pick: You've seen their ravioli at supermarkets, but did you ever think you'd be crashing at the Buitoni family's country house? The centuries-old Roccapacia, a russet tower in Umbria, has been in the family for 150 years, and chef Luigi Buitoni now rents it out to up to eight people.
The 5,382-square-foot house has five bedrooms, four bathrooms, a chapel and several frescoed salons. It anchors Paciano (population 974), a 13th-century hamlet set amid olive groves on Mount Petravella, where the stone houses topped by terra-cotta roof tiles are threaded by only three streets and eight alleys, the whole no more than 600 yards long and still bound by a medieval defensive wall with towers and town gates.
via Rossini 4, Paciano, 011-39/393-417-9273, locandadellaroccabuitoni.it, $2,575--$3,960 per week.
Or find your own: You can go with an Italy specialist (insidersitaly.com) or a generalist (rentalo.com), or rent from owners themselves (vrbo.com). Each method has perks: Renting direct gets you greater variety and lower prices, while using an agency will cost a bit more but offers the conveniences of dealing in English with a vetted catalog, the option of paying everything by credit card (direct rentals often require wire transfers), and greater consumer safeguards.
Determine before booking what fees are included -- taxes and basic utilities should be, while items like telephone charges are often based on usage -- and expect to pay a security deposit of 10 to 30 percent and a final cleaning fee of around $130, sometimes per guest.
THE MONASTERY
Observe the rules and earn bragging rights.
Monks keep things simple -- expect minimal furnishings, narrow beds and a decorative scheme heavy on Jesus and the Virgin Mary. Baths are sometimes shared and so are the home-style meals of grilled chicken or meatballs. It's all about the rules: Respect the monks, keep it quiet, arrive for meals promptly and be back in the guest wing by curfew, which may be as early as 9:30 p.m. Though pilgrims predominate, guests of all faiths (or none) are welcome and are usually invited, though not required, to attend religious services and the calls to prayers in the chapel.
Our pick: Perched atop a forbidding cliff in the Casentino hills between Florence and Arezzo, Il Santuario della Verna remains a place out of time, a cluster of medieval stone buildings often shrouded in morning mist, traced by silent processions of white-robed monks on their way to mass.
Visitors ranging from devout Catholics to transcendental spiritualists stay in the Foresteria, where the 72 austere rooms -- Formica floors, modular furniture, crucifixes on the walls -- line the arcaded cloisters. All meals are included with your stay, and dinnertime seating arrangements put guests together randomly so they're forced to make conversation -- which is part of the point.
Chiusi della Verna, 011-39/0575-5341 (the desk is staffed 9 a.m.-noon and 4 p.m.-6 p.m.), santuariolaverna.org (click on "accoglienza"), $66 per person, including meals.
Or find your own: Two books on religious hospices are "The Guide to Lodging in Italy's Monasteries" by Eileen Barish (2003) and the dated but still useful "Bed and Blessings Italy" by Anne and June Walsh (1999). Rome's American Church of Santa Susanna also maintains a good list (santasusanna.org). To avoid language barriers or wire transfers, use the booking site monasterystays.com, which reserves rooms at 320 Italian properties for a small fee.
LET TOURIST OFFICES HELP
Most local tourism Web sites contain searchable databases of various accommodations -- hotels, sure, but also the kinds of places mentioned in this story, plus campgrounds, hostels, apartments and more -- with all the relevant info you'll need to book. You'll find them grouped by region on italiantourism.com, under the confusing header "Database." You can also stop by a local office in person to pick up a booklet listing all the area's options: Unlike hotels, these tend not to book up far in advance (with the exception of rental villas.
E-mail to a friend

Get the best travel deals and tips emailed to you FREE - CLICK HERE!
Copyright © 2009 Newsweek Budget Travel, Inc., all rights reserved.
Note: This story was accurate when it was published. Please be sure to confirm all rates and details directly with the companies in question before planning
All About Travel and Tourism