From Deborah Feyerick and Brian Vitagliano
CNN





(CNN) -- The great-grandson of Apache warrior Geronimo argues in a lawsuit that a secretive society at Yale University holds the remains of his great-grandfather.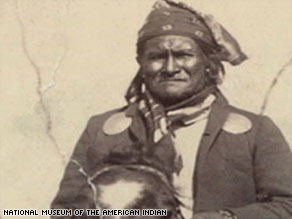 Apache warrior Geronimo was buried in Oklahoma, but some say a secret society absconded with his remains.
Harlyn Geronimo has sued Yale and the society -- the Order of Skull and Bones -- to try to recover the remains.
"I think what would be important is that the remains of Geronimo be with his ancestors," he said.
Skull and Bones, a collegiate society that's been around since 1832, includes alumni such as former President George W. Bush and his grandfather, Prescott Bush.

Watch Harlyn Geronimo discuss 'the spirits' »
Author Alexandra Robbins said evidence backs up the younger Geronimo's claim that Skull and Bones has the Apache warrior's remains.
"There's a Skull and Bones document that describes how Prescott Bush and other Bonesmen robbed the grave of Geronimo, and I spoke with several Bonesmen who told me that inside the tomb there's a glass display case containing [human remains] and the Bonesmen have always called it Geronimo," said Robbins, author of "Secrets of the Tomb," a book that delves into secretive societies at Yale, with special attention to Skull and Bones and its paths to power.
CNN attempted to contact Skull and Bones, but no one returned calls. Yale said it does not have Geronimo's remains and that it does not speak for Skull and Bones.
The controversy began in 2006, when a letter was found tucked into a book in the Yale library, according to an article published that year in Yale Alumni Magazine.
According to the article, the letter -- written on June 7, 1918, by one member of the society, Winter Mead, to another, F. Trubee Davison -- said the secret society had Geronimo's bones, which had been dug up by other members of the group at Fort Sill, Oklahoma.
Marc Wortman, a writer and former senior editor of the magazine, said he was the one who discovered the letter in Yale's Sterling Memorial Library.
"I found it and said, 'This is amazing. This is quite stunning to see this.' It was laid out so clearly in straightforward language saying we've got Geronimo's skull, femurs and horse tack, and we've brought it back to the tomb, as they call [the Skull and Bones house] in New Haven [Connecticut]," Wortman told CNN.
The robbing of Geronimo's remains fits into what Robbins calls "crooking" -- a competition among Bonesmen to steal valuable things, which were then hidden in the tomb, which has extremely limited access.
Geronimo is one of the many Chiricahua Apache leaders who fought to preserve the culture and the lifestyle of their people in the late 1800s. He fought both the Mexican and U.S. governments in the area of southern Arizona and New Mexico.
His descendant said it's important to honor Geronimo's legacy.
"Geronimo's legacy today is that he is looked to as one of the strong leaders of the Chiricahua people who fought to preserve homelands, cultural identity, to preserve their way of life," said his great-grandson.
Harlyn Geronimo is offended by the alleged actions of the Bonesmen.
"After a while it hurts you inside because you know this is your (great) grandfather," he said. "It's just something that is uncivilized for people of this nature to do."
Geronimo died in 1909 of pneumonia while he was a prisoner at Fort Sill. The burial in the cemetery wasn't true to Apache tradition though, and his great-grandson wants to rebury his ancestor in accordance with Chiricahua ways.
"They long for returning to their own homeland. They do not have their own reservation today. They are sharing a reservation with the Mescalero Apache," he said of the Chiricahua people.
Not everyone believes the Bonesmen found Geronimo's bones.
Some researchers have concluded that the Bonesmen could not have even found Geronimo's grave in 1918.
In the Yale Alumni Magazine's article, David H. Miller, a history professor at Cameron University in Lawton, Oklahoma, cites historical accounts that the grave was unmarked and overgrown until a Fort Sill librarian persuaded local Apaches to identify the site for him in the 1920s.
"My assumption is that they did dig up somebody at Fort Sill," said Miller. "It could have been an Indian, but it probably wasn't Geronimo."
That isn't stopping Geronimo's great-grandson from pursuing what he believes are his ancestor's bones.
President Barack Obama, Defense Secretary Robert Gates and Secretary of the Army Pete Geren are listed as defendants in the 32-page lawsuit Harlyn Geronimo filed in the District of Columbia.

In 1990, a federal law was passed to protect Native Americans' rights to their family member's remains. The Native American Graves Protection and Repatriation Act addresses the rights of lineal descendants, Indian tribes and native Hawaiian organizations to Native American human remains as well as cultural objects.
The lawsuit references the statute, asking the court "to free Geronimo, his remains, funerary objects and spirit from 100 years of imprisonment at Fort Sill, Oklahoma, the Yale University campus at New Haven, Connecticut, and wherever else they may be found."
E-mail to a friend

CNN's Kyra Phillips contributed to this story.
All About Yale University