By Craig Johnson
Special to CNN





(CNN) -- As the possibility decreases that investigators will learn what happened to Air France Flight 447 on Monday over the Atlantic Ocean, the chance of it entering the folklore of mystery crashes grows.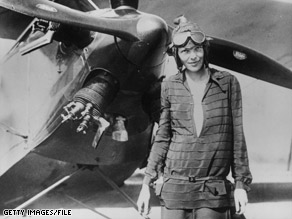 What happened to Amelia Earhart, whose plane vanished over the ocean in 1937, has been an enduring mystery.
Brazilian air force officials still have not identified debris from the Airbus A330, and a former U.S. National Transportation Safety Board official said currents would be scattering any debris from the flight over an increasing area, reducing the probability of finding the jetliner's voice and flight data recorders.
Experts said lack of answers about what happened to Flight 447 could give it a lasting place in the public consciousness, like TWA Flight 800.
Flight 800, headed to Paris, France, from New York, crashed into the Atlantic off Long Island in 1996, killing all 230 people aboard. After dealing with initial speculation that the plane was the target of a terrorist attack, the NTSB in 2000 released a report citing a short circuit around the center wing fuel tank as the probable cause.
But skeptics have rejected that conclusion and several other explanations have been offered over the years.
Clint V. Oster Jr., a professor of public and environmental affairs at Indiana University in Bloomington, Indiana, said that while the public may more readily process a single explanation, the reality is that many crashes are the result of compound difficulties.
"Many crashes don't have a single cause, but rather are the result of a complex sequence of events involving multiple failures. Understanding how these multiple factors interacted to cause the crash can be difficult," said Oster, co-author of "Why Airplanes Crash: Aviation Safety in a Changing World."
Don't Miss
Pilot and author Phaedra Hise of Richmond, Virginia, said a love of mysteries multiplied by the fact that air travel still captivates the public keeps fascination high.
"If [John F. Kennedy Jr.] had died in a car crash, there would not be the same level of fascination. Aviation for a lot of people is still pretty magical," said Hise, author of "Anatomy of a Plane Crash."
"If you don't know how [a plane] works, it's pretty magical; this huge thing takes flight. It's just a big mystery. There's a lot of romance with that, a lot of drama," Hise said. "The people who fly them are considered brave and have a lot of heart. And people just don't understand, so many people just don't understand, how airplanes work."
A number of unsolved plane crashes have remained in the public psyche for years:
One of the most famous was that of aviator Amelia Earhart, whose twin-engine Lockheed Electra vanished over the Pacific Ocean in 1937 while on a round-the-world flight. Earhart and her navigator, Fred Noonan, were never heard from again.
Because of the social intrigue, theories -- and conspiracies -- related to Earhart's disappearance have become legend.
None of course ranks as high in mystery as the Bermuda Triangle, a cone-shaped vicinity extending northward from Puerto Rico to about halfway up the U.S. Eastern Seaboard. Its origins come from the loss of Flight 19, a team of five Navy bombers that vanished in 1945 after getting disoriented and confused about its coordinates.
More recently, South African Airways Flight 295, a Boeing 747 en route to Johannesburg from Taiwan in 1987, crashed into the Indian Ocean shortly after the pilot reported smoke in the cabin. While debris that washed up on the shores of Madagascar was tested, the cause of the crash has never been positively established.
In 1994, US Air Flight 427 crashed in Aliquippa, Pennsylvania, after taking off in Chicago, Illinois, en route to West Palm Beach, Florida. While federal officials identified a problem with the rudder but could not explain why the plane suddenly flipped and crashed, not a single clue has revealed why the mechanism failed. All 132 people aboard died.
Golfer Payne Stewart's Learjet crashed in 1999. Although federal investigators revealed that the cabin air system lost pressure, it still has not been determined why. The pilots reportedly lost contact with air traffic controllers about 15 minutes into the flight. The investigation uncovered that the jet flew a straight course until it ran out of fuel and crashed in South Dakota.
In January 2008, a British Airways Boeing 777 crashed short of the runway at Heathrow Airport in London, England. Nineteen of the 152 people aboard were injured. There still is no concrete explanation for why the plane's engines lost power.
"The one that fascinates me is Steve Fossett," said Hise."I have absolutely no idea what happened to that man."
Fossett, an adventurer famous for being the first person to complete a solo balloon flight around the world, was reported missing over Nevada in September 2007. Months after investigators searched for his body, his widow, in February 2008, requested that he be declared legally dead. His bones, found more than a half-mile from where his plane wreckage was discovered, were positively identified later that year.
"He was flying in clear skies, in an area he was familiar with. That's the one that kind of eats away at me," Hise said.
With all the mystery, David M. Primo, associate professor of political science at the University of Rochester, said there's a broader effect when investigations fail to find clues about how an aircraft go down.
"An unsolved crash has the effect of creating an erroneous perception that flying is unsafe, even though it is a remarkably safe form of travel," said Primo, co-author of "The Plane Truth: Airline Crashes, The Media and Transportation Policy."
The odds of dying in a domestic plane crash are one in 70 million, according to MIT statistician Arnold Barnett, who has performed analyses for the Federal Aviation Administration.
E-mail to a friend

All About Steve Fossett • Amelia Earhart • London Heathrow Airport • Bermuda Triangle