(CNN) -- Apple CEO Steve Jobs is recovering after undergoing a liver transplant at Methodist University Hospital Transplant Institute in Memphis, Tennessee, the institute's program director said Tuesday.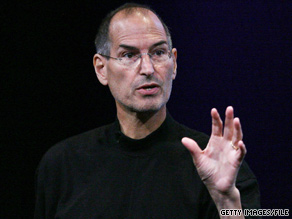 Steve Jobs looks gaunt at an event in October. He began a leave of absence three months later.
"Mr. Jobs is now recovering well and has an excellent prognosis," said Dr. James D. Eason of Methodist University Hospital Transplant Institute. He added that Jobs had given his permission for the information to be released. Eason did not say when the operation took place.
The announcement came three days after The Wall Street Journal reported that Jobs underwent the transplant two months ago in Tennessee, though it did not identify the source of its information nor did it identify the hospital.
Before Tuesday's announcement by the hospital, a spokesman for the company would not confirm the newspaper report.
"Steve continues to look forward to returning to Apple at the end of June, and there is nothing further to say," spokesman Steve Dowling said earlier Tuesday in an e-mail to CNN.
Tuesday's announcement came the same day that a story published by The New York Times said the reports of Jobs' transplant "raise many questions -- not just about his prognosis, but also about the system for allocating scarce organs to the many people who need them."
Methodist's Eason did address the implication that the multimillionaire may have gotten special treatment, saying the 54-year-old computer visionary received a transplant because he was "the sickest patient on the waiting list at the time a donor organ became available."
He added the transplant was performed "for an approved indication in accordance with the Transplant Institute policies and United Network for Organ Sharing (UNOS) policies."
"We respect and protect every patient's private health information and cannot reveal any further information on the specifics of Mr. Jobs' case," Eason added.
It's been almost six months since Jobs, who co-founded Apple and has thrilled the public by launching consumer-tech favorites such as the iPhone and the iPod, announced he was taking a medical leave of absence until the end of June.
Jobs, a pancreatic cancer survivor, said early this year that a hormone imbalance caused the considerable weight loss that had some speculating whether his cancer had returned.
"The remedy for this nutritional problem is relatively simple and straightforward, and I've already begun treatment," Jobs wrote in a letter addressed to the "Apple community" on January 5.
"But, just like I didn't lose this much weight and body mass in a week or a month, my doctors expect it will take me until late this spring to regain it."
Investors have been painfully aware of how any development regarding Jobs' health -- real or rumor -- can affect Apple's stock price. But experts say Apple has been taking steps to ensure that its fortunes are not linked with Jobs taking an active role in the company.

E-mail to a friend

All About Steve Jobs • Apple Inc. • Liver Diseases • Memphis • Apple iPhone