NEW YORK (CNN) -- Friends and colleagues of legendary CBS anchorman Walter Cronkite gathered Wednesday in New York's Lincoln Center to remember "the most trusted man in America."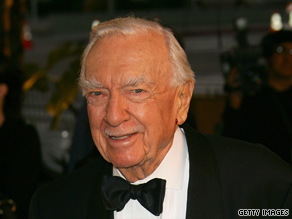 Newsman Walter Cronkite, in a 2007 photo, was honored at a memorial service in New York on Wednesday.
"He was a great anchorman in the news business, because his greatest contribution was not his knowledge or his expertise -- as great as those were -- it was his steady holding to what was most important," said his colleague and longtime friend Andy Rooney, who addressed the crowd in a recorded video from behind his well-known desk.
"If it can be said about any individual in our business that he's been a force for good in the world, Walter Cronkite was that person," Rooney said.
Cronkite died July 17 at the age of 92. He anchored the "CBS Evening News" from 1962 until 1981.
"I thought that he had the most trusted news program because he had an inquiring mind and a caring heart and a careful devotion to the facts," former President Clinton said. He said he became friends with Cronkite years after he, as a youth, had watched the venerable anchor.
"I just wound up being crazy about the guy for reasons that had nothing to do with all of the things we are here honoring about today," he said.

Watch Clinton share memories of Cronkite »
Tom Brokaw, the former NBC host, remembered a man with a big heart for the news and an equally big heart for his friends. The former anchor recalled a moment when he had interviewed Soviet Union leader Mikhail Gorbachev.
"Immodestly, it was a big get, and I was concerned about how it would be received," he said.
"As soon as the prime time hour ended, the phone rang, and the first call, a voice said, 'Well, that was magnificent.'
"In my anxiety, I didn't immediately recognize the voice," Brokaw said. "I said, 'Who is this?' There was a roar of laughter at the other end, and the familiar voice continued, 'Who is this? It's Walter Cronkite, for God's sakes, how soon they forget.' "
President Obama, who hadn't known Cronkite personally, said the newsman "was a voice of certainty in a world that was growing more and more uncertain."
"Like all of you, I have benefited as a citizen from his dogged pursuit of the truth, his passionate defense of objective reporting and his view that journalism is more than just a profession," President Obama told the crowd. "It is a public good, vital to our democracy.
"Walter wasn't afraid to rattle the high and the mighty," he said.
"It may have seemed inevitable that he was named the most trusted man in America ... [but] when he was told of this extraordinary honor ... he naturally downplayed it by saying the people had not called his wife," Obama said.
The memorial included performances by Jimmy Buffett, Mickey Hart and Wynton Marsalis.
Bob Schieffer, the host of CBS' "Face the Nation," remembered the late anchor as a voraciously curious man.
"He always wanted to know everything about everything, and he wanted to know it before everyone else knew it," he said.
Schieffer said Cronkite often asked difficult questions right before 6:30 p.m., when the news was scheduled to begin.
"Between 6:10 and 6:30, here are some of the questions that Walter actually asked: How much oil is there in the world? In Poland, do they call him Father Christmas or Santa Claus? And then my all-time personal favorite: How long is Greenland?" Schieffer said, drawing laughter from the audience.
"Walter Cronkite loved the news, and we loved Walter Cronkite for it," he said. "What a man."
Cronkite's career spanned much of the 20th century, as well as the first decade of the 21st.
The native of St. Joseph, Missouri, broke in as a newspaper journalist while in college, switched over to radio announcing in 1935, joined the United Press wire service by the end of the decade and jumped to CBS and its nascent television news division in 1950.
He also made his mark as an Internet contributor in his later years with a handful of columns for the Huffington Post.
Cronkite covered World War II's Battle of the Bulge, the Nuremberg trials, several presidential elections, moon landings, the assassination of President Kennedy and the Watergate scandal of President Nixon's administration.
At times he even made news himself. A 1977 question to then-Egyptian President Anwar Sadat about Sadat's intent to go to Israel -- at the time considered a nonstarter because of the lack of a treaty between the two countries -- received a surprising "yes" from the Egyptian leader.
Soon after, Sadat traveled to Jerusalem, a trip that eventually led to the Camp David Accords, which included a peace deal between Israel and Egypt.
At his height of influence as CBS anchorman, Cronkite's judgment was believed so important it could affect even presidents. In early 1968, after the Tet Offensive, Cronkite traveled to Vietnam and gave a critical editorial calling the Vietnam War "mired in stalemate."
Noting Cronkite's commentary, President Lyndon Johnson reportedly said, "If I've lost Cronkite, I've lost Middle America." Less than two months later, Johnson announced that he would not seek re-election.
Cronkite's own name was often floated as a presidential possibility -- wishful thinking on the part of some pundits, because Cronkite had little desire to enter politics once he'd become a successful anchorman.
He became, however, an outspoken critic of what he saw as flaws in government and broadcast journalism. He disliked the current war in Iraq, telling Esquire magazine, "Indeed, we are in another Vietnam. Almost play by play. It's a terrible mistake that we're in Iraq, and it's a terrible mistake to insist on staying there."

And he disliked the corporatization of news.
"The nation whose population depends on the explosively compressed headline service of television news can expect to be exploited by the demagogues and dictators who prey upon the semi-informed," he wrote in his 1996 memoir, "A Reporter's Life."
E-mail to a friend

All About Walter Cronkite • TV News Shows