By
John King
CNN Chief National Correspondent





Editor's note: On CNN's "State of the Union," host and chief national correspondent John King goes outside the Beltway to report on issues affecting communities across the country.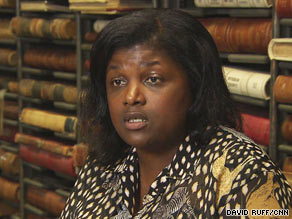 County administrator Brenda T. Buck is trying hard to help create eight to 10 sawmill jobs for Jefferson County.
FAYETTE, Mississippi (CNN) -- The odds are against Brenda T. Buck, and she knows it. So she counts on what she calls the Sandwich Philosophy: "Take it one bite at a time."
Buck is the county administrator in Jefferson County, a rural area in southwest Mississippi dotted with small churches, modest homes and markers noting a Civil War skirmish.
"It is a great small town, and everybody knows everybody," Buck says.
If you look through the statistics, three things jump out:
• The Census Bureau lists the population of Jefferson County as 86 percent African American, the highest percentage of any county in the United States.
• It is the fourth-poorest county in the United States, with a median income of $15,037.
• The unemployment rate in August was 18.6 percent, the highest of Mississippi's 82 counties.
"It has not always been this way," says Angelia Shelvy, a single mother of three who is among the unemployed. "I think we are forgotten."
Shelvy had a job making $10,000 a year as a teacher's assistant, but she left it to take a job paying twice as much, signing on with a union that provides workers to nuclear power plants. Her parents agreed to care for her children when she had to travel, for months at a time, as far away as Arizona.
Shelvy thought it was the right thing to do for her family, but phone calls to home at bedtime proved otherwise. Her 4-year-old, especially, had a rough time adjusting.
'State of the Union'
CNN's John King reinvents Sunday talk: more time for more politics.
Sunday, 9 a.m. ET

"I'm like, 'You have Granny.' He's like, 'No, I don't want Granny; I want you to hold me,' " Shelvy told us. "I missed Mother's Day twice; for two years I missed it. ... So I decided that it was more important for me to be here with my children."
Back home now, she has been searching for work since March, looking as far as 90 minutes away from Fayette.

Watch John King talk with Angelia Shelvy about her struggles to find work »
"I did Internet searching, different jobs, hospitals, different schools," she said. "They're not hiring. They either say they are not hiring, or I'm not qualified. I don't have enough years of experience. 'We'll call you later.' 'Get back with us.' And it's been stressful for me."
Buck spends hours a day trying to help, and most of her time with the Board of Supervisors is spent debating economic development ideas. At home, too, she is reminded of the bleak local jobs market.
Her husband isn't there. He's working 900 miles away, at the moment, in Indiana.
"He works with a company that has been going into a lot of the car plants" during refittings and downsizing, Buck said. "We have four kids. ... He is here basically maybe a total combination of, maybe, two months out of the year."
The county got a modest amount of federal money to buy new police cruisers. But its requests for stimulus money to improve its roads have been ignored, at least to date, and as Buck continues to press those requests, she also is pushing smaller economic development grants.
Reliable Mat LLC is her current obsession. The screeching hum of a giant saw greets visitors, and inside the warehouse are dozens of pallets of neatly stacked firewood, waiting to be loaded on 18-wheelers and distributed across the country for the coming winter.
On the grounds, there are 10 workers, some running giant logs through the saw, others stacking and wrapping the wood for shipment. On average, the men make about $100 day, and Paul Southerland, the company's general manager, says the noise and activity attracts others who are down on their luck.
"I see a lot of people come by looking for jobs, yeah," Southerland says during a tour of the grounds.
The company's main product is giant wooden mats used to create flat surfaces to provide access -- on foot and in vehicles -- to oil and gas fields. All of the work has shifted to the firewood production because orders for the mats have dropped dramatically.
"Mississippi is always last to feel the effects of a recession, and most of the time it is the last to pick back up," Southerland said. "It hit us about June. .. It really hit us hard, too."
Still, Southerland expects orders to pick up early next year. He hopes to expand the business by then if the county secures an economic development grant to help him buy a bigger sawmill.
"If we had that sawmill, we would be able to add eight or 10 more folks," Southerland said.
Eight or 10 more jobs might not seem like much in many places. But Jefferson County's population is just shy of 9,000, and when nearly one in five are unemployed, Buck invokes her Sandwich Philosophy.
"My short term goal is to get that grant, to get those eight people working," she says. "My philosophy, when I walk through the doors in the morning, just like a sandwich: take one bite at a time."
She also sees a bigger gain than just eight or 10 jobs.

"Just imagine, eight people, if it were eight men making $10 to $11 an hour could actually come home and be home at night with their families," she said. "The impact that it would make not just from the economical standpoint but from the social standpoint.
"That father's presence there in that household and not having to travel so far. I mean you have a double whammy. It's a win-win for any family."

E-mail to a friend

All About Mississippi • U.S. National Economy