FARGO, North Dakota (CNN) -- North Dakota's most populous city fortified dikes and braced itself Thursday as the National Weather Service said the Red River could crest as high as 43 feet, two feet higher than earlier predicted.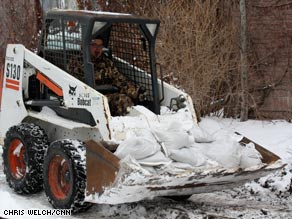 A Fargo resident uses a bobcat to move around sandbags used to build levees on Thursday.
Fargo Deputy Mayor Tim Mahoney said the city didn't plan to raise the reinforcements on the city's dikes, which were lifted to 43 feet Wednesday when the weather service gave the 41-foot prediction.
"We are where we want to be with the dikes," Mahoney told Fargo radio station KFGO.
"We are going to hold fast with the height of our dikes right now," he said. "We're comfortable. Now what we have to do as a group is go around and check all the dikes. Every dike has to be secure. So that's what the message is to the group. Check your dikes make sure they're solid, and we're going to back you up."
Earlier, Fargo Mayor Dennis Walaker said the city was in "uncharted territory, because it's a learning curve for all of us, when we get into new levels and so forth."
The Red River is expected to crest Saturday. A 1997 flood, which saw the waterway hit 39.6 feet, approached the level expected this weekend, but the record of 40.1 feet has stood since 1897, according to the National Oceanic and Atmospheric Administration.
By Thursday afternoon, the river stood at 39.2 feet, according to the National Weather Service.

See map of affected area »
Earlier Thursday, city officials had pleaded for volunteer sandbaggers to help fortify dikes, and they said later that the response had been positive.
Sandbags are used to bolster dikes in residential areas around the city, while the city dikes are reinforced with clay.
iReporter Ernest Feland, 65, said the number of people volunteering has been "unbelievable."
Don't Miss
"People are showing up like you would not believe. People are just worried and concerned," he said.
Tyler Specht, an iReporter and student at North Dakota State University, said many students were helping with the sandbagging efforts.
"The water level is getting worse, I think," he said. "The student effort and the community effort is getting better."
To the west, the level of the Missouri River, which lies between Bismarck and Mandan, had fallen more than 2½ feet since Wednesday, the National Weather Service said.
However, evacuations in low-lying portions of Bismarck, North Dakota's capital, remain in place, according to the city's Web site.
"Conditions can change rapidly," it said.
On Wednesday, explosives were used to blow up an ice jam on the river south of the city, and Bismarck's Web site warned that ice jams could still pose problems.

Watch as officials tell residents to "get out now" »
South of Fargo, in Oxbow and other areas in Cass County, authorities received 11 requests for evacuation, according to Cass County Sheriff Paul Laney. They have been using airboats to recover the residents. He said authorities had evacuated 46 people and a dozen pets from the area on Wednesday.

See the effects of flooding in Oxbow »
"As the river's moving north, our issues are moving north," Laney said at a morning meeting with the Fargo mayor.

Despite the rising water, Walaker said he was cautiously optimistic.
"I would say we got a simple 3-, maybe a 4-to-1 shot of winning, and those are good odds at any horse track in the United States," he said.
E-mail to a friend

CNN's Chris Welch, Kara Devlin, Nicole Saidi and Susan Roesgen contributed to this report.
All About North Dakota • Fargo • Missouri River • Floods