(CNN) -- The head of the opposition to Madagascar's government took to the streets Saturday, declaring himself the nation's leader after a week of violence and looting that killed at least 83 people and wounded more than 300.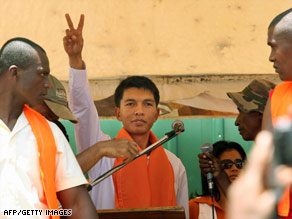 Antananarivo Mayor Andry Rajoelina takes part in a rally in the Malagasy capital city Saturday.
Andry Rajoelina, mayor of the capital city of Antananarivo, called on supporters to demand the resignation of President Marc Ravalomanana and said he plans to give orders until a transition government can be established.
He called on workers in the island nation off of Africa's southeastern coast to stay away from work and make the capital a "ghost town" until Ravalomanana steps down, according to a statement from the government.
Meanwhile, Ravalomanana was traveling the country Saturday, surveying damage from the looting and telling citizens that he remains in charge.
"We must monitor the troublemakers so that the rule of law is observed in Madagascar," he said during a visit to the island of Nosy Be. "The general consensus is that the unrest is caused by people who came suddenly from nowhere and incited the panic. We respect the constitution and the law, and will not be people who destabilize our nation by vandalism and looting."
Violence in Madagascar began Monday, when protesters stormed state-run television and radio stations in Antananarivo. Hours earlier, the government had shut down a radio station owned by Rajoelina and, weeks ago, had similarly shut down Rajoelina's television station after it aired an interview with ex-President Didier Ratsiraka.
Don't Miss
Ravalomanana himself took power after ousting Ratsiraka in a tense, hotly contested election in 2001. Ratsiraka fled to France afterward. Loyalists blame Ratsiraka's family members for inciting the recent trouble.
There is also anger in Madagascar, where the World Bank says the average person earns about $320 a year, over reports that Ravalomanana recently bought a $60 million airplane.
There is no official death toll related to the violence because it is difficult to compile numbers from Madagascar's 22 provinces. But the Ministry of Health says that at least 83 people have died and 330 have been wounded, with 110 of those needing to be hospitalized.
Most of those injuries have happened during looting, the ministry said.

See pictures from this week's upheaval »
A development worker from the United States who lives in the port city of Tamatave said a small store that sells long-distance telephone credits was burned down and a bakery was looted, with looters claiming that the flour used there comes from the president.
"Right now, the mob mentality has taken over, and a generally very passive people have metamorphosized into a free-for-all and [are] taking advantage of no law and order," Danny Hervol said.

Watch an iReport on the Madagascar violence »

The standoff has left residents confused and concerned that violence -- which largely died down by Wednesday -- would return, possibly growing worse than before.
"I honestly feel in the dark right now, because they are both claiming presidency, and I don't know what's going to happen next," said Brittany Martin, an American Harvard Fellow in Antananarivo.
E-mail to a friend

CNN's Erin Levin contributed to this report.
All About Madagascar