(CNN) -- Fighting between government and rebel forces in Somalia over the past two days has killed more than 40 civilians and wounded about 150 others, according to sources at the scene.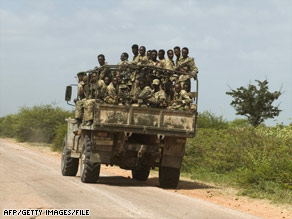 Ethiopian troops roll into Somalia in 2006.
Most of the casualties occurred Friday, when 39 Somali civilians were killed in crossfire, hospital sources and eyewitnesses told CNN. Officials said 138 other civilians have been admitted to Madina Hospital in Mogadishu, where government forces went on the offensive against al-Shabab militants.
Somalia's Shabelle media reported three more deaths and more than a dozen others wounded Saturday from sporadic fighting and shelling in Mogadishu, which started after the rebels advanced to the presidential palace.
Government forces targeted the Bakarah market, an al-Shabab stronghold, and other militant locations in the city, sources said.
Eyewitnesses told CNN at least three government forces were killed in Friday clashes and that the dead bodies of militants had been spotted.
Al-Shabab -- once the armed wing of the Islamic Courts Union -- has been designated as a terrorist group by the United States, which says it is affiliated with the al Qaeda terrorist network.
One of the civilians slain was a journalist from Shabelle media.
E-mail to a friend

Journalist Mohamed Amiin Adow contributed to this report.