HARARE, Zimbabwe (CNN) -- Roy Bennett -- a leader in the Zimbabwean opposition Movement for Democratic Change who was sent back to jail earlier this week to await trial -- has been released on bail, his lawyer said Friday.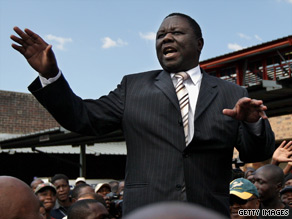 Movement for Democratic Change leader Morgan Tsvangirai says his party will not attend cabinet meetings.
The trial is scheduled to begin next week.
Attorney Trust Maanda told CNN that Bennett will appear at Mutare High Court on Monday, but his defense team is not ready for a trial and will likely ask for a postponement.
No other information was immediately available.
Bennett faces charges of possessing weapons for sabotage, banditry and terrorism. He denies any wrongdoing.
Earlier Friday, the MDC leader, Prime Minister Morgan Tsvangirai, said his party would boycott, but not withdraw, from the unity government.
"This is a constitutional crisis," said Tsvangirai as he railed against President Robert Mugabe's party. "ZanuPF [Mugabe's party] cannot run government alone constitutionally and legally."
Tsvangirai said his party will not attend cabinet meetings and the prime minister has also boycotted his meetings with Mugabe which occur every Monday.
The party is not completely pulling out of the government, Tsvangirai said.
"Why have we decided not to pull out? Because the people of Zimbabwe want real change and that is our obligation. If that time to pull out comes, it will be that time, not now," Tsvangirai said.
Tsvangirai did not explain the apparent contradiction between boycotting the government and pulling out of it.
Don't Miss
The relationship between the two parties has been tenuous since the power-sharing deal, which had been brokered by the regional Southern African Development Community after a hotly disputed election won by Mugabe last year.
The last straw may have been the re-arrest of Bennett this week.
Bennett was arrested on February 13 -- just before he was to be sworn in as deputy agriculture minister in the new power-sharing government.

Watch Bennett discuss Zimbabwean politics »
He was jailed again Wednesday after a pre-trial court hearing, but an MDC spokesman said Friday that Bennett had been granted bail.


Tsvangirai had in the past railed against the arrest and the delay in swearing in Bennett.
"The delay which is taking place for his swearing in is deliberate to frustrate him, to frustrate our constituency, to send the message -- look we can do this we can do this unilaterally and that is what we are trying to oppose," Tsvangirai has said.
E-mail to a friend

CNN's Nkepile Mabuse contributed to this report
All About Zimbabwe • Robert Mugabe • Movement for Democratic Change