(CNN) -- Brazil's President Luiz Inacio Lula da Silva defended his country's decision to free an Italian fugitive condemned to life in prison for murders he denies committing in the 1970s while a member of an extremist left-wing group.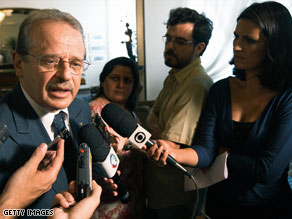 Brazil's Minister of Justice Tarso Genro talks with reporters on Wednesday.
Brazil's highest court granted political asylum Wednesday to ex-Communist militant Cesare Battisti, an act that enraged Italian officials also seeking to overturn the court's rule.
"Italy may not like it, but will have to respect it," said Lula during a news conference in Corumba. "This person is being accused of a crime which took place in 1978, and his accuser no longer exists to prove the veracity of the facts."
Battisti, 52, escaped from an Italian prison while awaiting trial for four murders he was accused of committing as a member of PAC, an acronym which translates to Armed Proletarians for Communism.
In 1984, Italian courts condemned Battisti to at least 12 years in prison for possession of false documents, equipment to produce falsified documents and participation in organized crime.
At the time, however, Battisti was found innocent of the four murders committed by his organization. He was tried and condemned in absentia in 1988.
After fleeing an Italian prison in 1981, Battisti was granted asylum in France during the presidency of Francois Mitterand. The so-called Mitterand Doctrine gave asylum to all Italian militants who abdicated the armed struggle. For several years, France and Italy were embroiled in diplomatic spats over extradition requests.
Battisti fled to Mexico after Italy won another extradition request. He continued his work as a writer of thriller novels and subsequently moved to Brazil.
"He is always able to turn the clock in his benefit, finding refuge from country to country" said Roberto Della Rocca, Vice President of Italy's Terrorism Victim's Association during an interview with Corriere TV.
"Now, he finds himself benefiting from the Lula Doctrine, once again this man with a stained past, who committed very grave crimes singing again the old song of political persecution."
Luiz Eduardo Greenhalgh, Battisti's leading attorney in Brazil, said Italy's case against his client was fraught with inaccuracies.
"At some point, they had the audacity to condemn him for murders that happened in the same day in cities that are hundreds of kilometers apart," said Greenhalgh.
In a written statement, Greenhalgh and his associates claimed the Supreme Court's decision to refuse Italy's extradition request and grant Battisti refugee status was in compliance with Brazil's constitution, which forbids the extradition of foreigners who may face more than 30 years in prison. Battisti would have faced solitary confinement, which Brazilian law also opposes.
"Only those who superficially know this case can claim the court's decision to grant (him) political refuge is mistaken," the lawyers said, adding that Battisti's case in Italy has political motivations. "He is not guilty of any of the four murder accusations."
His attorneys claim that after 10 years, Battisti's case ws reopened, based on a confession by another prisoner, Pietro Mutti.
"His Italian attorneys were arrested once his case was re-opened and the Italian state hired new attorneys to defend him," they said in a statement.
Other Italian political militants of the 1970's such as Pietro Mancini, Luciano Pessina and Achille Lollo who are also facing extradition requests from the Italian government, are having their cases deferred to Brazil's Supreme Court.
Armed Proletarians for Communism was one of Italy's home-grown left-wing armed groups characteristic of the 1970's. Like the infamous Red Brigades, they committed politically-motivated murders on behalf of what they saw as working class ideals.
E-mail to a friend