By Arthur Brice
CNN





(CNN) -- El Salvador will elect more than 340 local and congressional officials Sunday, two months before the nation's presidential election. But Sunday's results could go a long way toward determining who that next president will be.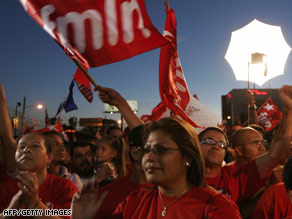 Supporters of the leftist group FMLN participate in a rally in San Salvador, El Salvador, Wednesday.
The FMLN, the leftist guerrilla group that laid down its arms in 1992 and joined the electoral process, stands to gain legislative seats in Sunday's election and has a good chance of winning the presidency in March.
"It looks pretty clear from looking at the trends at the polls, from the economic conditions and from voter fatigue with the [ruling] Arena Party, the FMLN looks very well-placed to do well," said Heather Berkman, a Latin America analyst with Eurasia Group, a political risk research and consulting firm.
At stake Sunday are 84 seats in the national Legislative Assembly and 262 municipal posts. Arena holds 34 of the Legislative Assembly seats and the FMLN has 32. Three other parties share the remaining 18.
Though recent polls show many FMLN legislative candidates leading Arena hopefuls, Berkman estimates the FMLN will fall short of the 43 seats the party would need to control congress.
But the FMLN could win enough support and momentum to carry its candidate to the presidency in March.
"If the left is able to pick up some seats, this will project an image of inevitability to the country," said Larry Birnes, director of the nonprofit Council on Hemispheric Affairs.
"They now have a real shot at the presidency," said Bernard Aronson, who was President George H.W. Bush's assistant secretary of state for inter-American affairs from 1989-93.
The FMLN has helped its chances by choosing a relatively moderate candidate, Mauricio Funes.
Birnes calls Funes "a very non-revolutionary ... Teflon-coated candidate preaching moderation."
Recent polls indicate Funes leads Arena candidate Rodrigo Avila by up to 14 percent among likely voters, the Eurasia Group said in an analysis this week.
"The popularity of the ruling right-wing Arena Party has been falling because of the region-wide problem with crime," Birnes said, citing the kidnappings and killings plaguing much of Latin America.
That has led, he said, to the "remarkable rise in popularity of the FMLN."
The FMLN, which stands for Farabundo Marti National Liberation Front, was formed in late 1980 as an umbrella group for five leftist guerilla organizations fighting a U.S.-backed military dictatorship. After a 12-year civil war, the two sides signed a peace pact in 1992 and the FMLN became a legitimate political party.
By some estimates, 75,000 Salvadorans died during the war.
For the past 17 years, Salvadorans have mostly supported the conservative Arena party because of concerns over the FMLN's left-wing agenda and the group's guerrilla background. There also have been outside influences.
"The country has been afraid to vote for the left because of fears from Washington," Birnes said.
El Salvador, along with Colombia and Peru, have been the United States' closest allies in Latin America. Birnes calls the three nations "Washington's street-corner guys."
That could change with an FMLN victory, as El Salvador would join other Latin American countries that have elected leftist leaders in recent years -- Venezuela, Bolivia, Nicaragua, Argentina and Honduras.
"There's another possibility that yet another country will join the pink tide and go leftist," Birnes said. "What Washington worries about is momentum building up behind one election after another for leftist candidates."
Aronson doesn't see it that way. He sees two types of leftist governments in Latin America: "institutional" governments like Brazil's that "have made peace with the free market" while still championing social programs and populist, more-radical governments like Venezuela's.
"We shouldn't exaggerate like it's some tide sweeping the region, because it's not," he said.
Aronson, who was one of Washington's top officials dealing with Latin America when the civil war ended in 1992, said he would interpret an FMLN victory in March as "the ultimate fruition of the peace accords we backed."
"It's not a bad thing that out parties become the in party," he said. "That's how democracy is supposed to work."
Robert Pastor, a Latin America national security adviser for President Jimmy Carter in the late 1970s, sees a lesson at work.
"This should show Americans that revolutionary and guerrilla groups that have a political agenda can evolve to be democratic," he said.
Aronson said the incoming administration of President-elect Barack Obama may enjoy improved relations with the area.
"The Bush administration was seen in a more ideological lens by the left in Latin America," Aronson said. "Obama comes in with a fresh start."
The Eurasia Group's Berkman also thinks the FMLN would take a pragmatic approach. The nation relies too much on outside investments and remittances from Salvadorans living abroad for the FMLN to adopt too much of a radical approach.
"I don't think they're going to mess with that," she said.
Instead, she said, the FMLN would be more likely to be concerned with local social policies such as health care and giving municipalities more power.
In addition, Berkman said, since it's unlikely that the FMLN will win enough seats to rule the National Assembly, the party will have to strike deals with other parties.
"The hopes are that some of the smaller parties will exert a moderating influence on leftist initiatives," she said.
An out-of-power Arena Party may be of greater concern, she said: "The big worry I have is how Arena will act as an opposition party."
The answer to those questions may become clearer after Sunday, when more than 4.2 million Salvadorans are eligible to vote.
The Organization of American States has 82 observers from 19 countries in place, spokeswoman Brenda Santamaria said Friday. The observers have been in El Salvador since December 1 and have visited the nation's 14 departments, or states, she said.
"Up to now, the mission has observed that the political campaigns have been carried out in a tranquil and civic way, with the exception of some isolated incidents that, according to the pertinent authorities, are not directly related to the electoral process," the OAS said in a statement issued Thursday.
E-mail to a friend

All About El Salvador