By Rey Rodriguez
CNN





MEXICO CITY, Mexico (CNN) -- Ciudad Juarez was converted into a fortress as members of President Felipe Calderon's security cabinet met Wednesday in the border town to devise a strategy to combat narcotraffickers.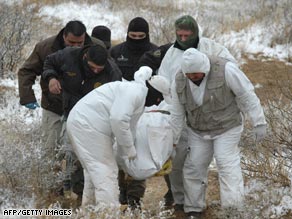 Mexican police carry a body after a clash with gangs that left 21 dead in the state of Chihuahua on February 10.
Ciudad Juarez, across the U.S. border from El Paso, Texas, is one of the most violent cities in Mexico, with the vast majority of the violence tied to drug trafficking.
The secretary of the interior, Fernando Gomez Mont, who attended the meeting, said the city remains under government control and promised greater cooperation between federal and local authorities.
"Not a centimeter of the plaza will be ceded to them, and we are going to expel them from Juarez," he vowed, referring to the narcotraffickers.
"That is the gist of our promise and in that we put our word."
But last week, the chief of police was obliged to quit, after threats from organized crime to kill a policeman every day that he remained on the job.
A day later, the mayor was threatened with death.
Leo Zuckerman, a security expert who visited Juarez on Friday, disagreed with Gomez's view.
"I can assure you that what we are seeing is the loss of control of the state on the society," he said.
"It is organized crime that is governing Ciudad Juarez; they had the ability to force out the chief of police."

Watch how the violence is affecting the United States »
Some opposition legislators and even the mayor have asked Mexican federal authorities for more help.

The violence generated by the war of the drug cartels for control of drug routes translated last year into some 6,000 killings. More than 1,200 of them occurred in Ciudad Juarez alone.
During the meeting of the security cabinet, soldiers discovered an explosive at the airport, authorities said.
E-mail to a friend

All About Drug Trafficking • Felipe Calderon • Mexico