PANAMA CITY, Panama (CNN) -- Panama's director of the National Cultural Institute was killed when he got caught in the middle of a shootout between robbers and security guards, the government reported.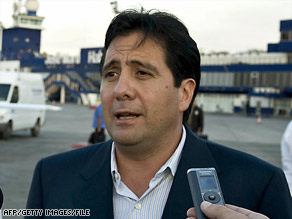 Panamanian President Martin Torrijos has vowed to find the culprits and bring them to justice.
A security guard and an assailant also were killed and two suspects were wounded in Tuesday's attack, La Estrella newspaper said. Two would-be robbers escaped, the newspaper said on its Web site.
Culture Minister Anel Omar Rodriguez had just stepped out of his car in front of the national lottery headquarters when four men and a woman got out of a sport utility vehicle and started shooting at a private armored truck, La Estrella said. He was hit by a stray bullet in the crossfire.
A visibly moved President Martin Torrijos, who called Rodriguez "a friend and a great Panamanian," arrived at the scene after the shooting and tried to console the the official's family.
"The pain that we share with his family is the pain that we share with Panamanian families each time a violent incident fills us with mourning and suffering," Torrijos said on his Web page.
Torrijos vowed to find the culprits and bring them to justice.
"We are not going to lose this fight against delinquency," Torrijos said on his Web site.
One of the two wounded suspects was taken to San Miguel Arcangel Hospital, where people believed to be fellow gang members unsuccessfully tried to rescue him, La Estrella newspaper said. The other suspect was taken to a different hospital.
Opposition presidential candidate Balbina Herrera blamed the shootout on criminals who have invaded Panama, saying that immigration controls must be strengthened and that Mexicans and Colombians should have visas to enter the country, La Estrella said.
"We must stop the spiral of violence before it is too late," the newspaper quoted him as saying.
Panama will hold its presidential election in May.
Rodriguez, a former Panamanian ambassador to Cuba, left behind a wife and four children, La Estrella said.
E-mail to a friend

Alexandra Ciniglio contributed to this report for CNN.
All About Panama • Martin Torrijos