RIO DE JANEIRO, Brazil (CNN) -- Rain-induced flooding over large parts of Brazil have killed at least 31 people and left another 500,000 homeless, the government's civil defense agency said Thursday.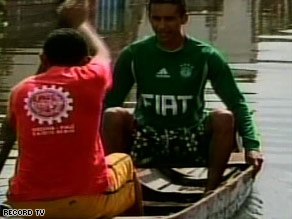 Brazilians take to boats to in the flooded Piaui state, in the northeastern part of the country.
About 270 towns and communities in 10 states have been flooded by swollen rivers. About one-third of the deaths have occurred in Ceara state in the northeastern part of the country, officials said.
The remaining deaths have occurred in four other states.
Food, supplies and other aid sent by the government can only reach some communities by helicopter because roads are flooded.
Rain has fallen steadily in some places for more than two weeks and is forecast to continue for another 10 days.
Meteorologists and other weather specialists are divided over what has caused so much rain, particularly in the normally dry northeastern section of the nation.
Don't Miss
Some say ocean temperatures are to blame, while others say deforestation has led to the climate change.

Brazil has been devastated by rain-swollen rivers for months.

Watch scenes from flooding in Brazil »
Flooding in the southern part of the nation in November and December killed more than 120 people and left about another 30 missing.
E-mail to a friend

Fabiana Frayssinet contributed to this report for CNN en Español.