MEXICO CITY, Mexico (CNN) -- Authorities captured four suspects who allegedly participated in the ambush and killing of 12 federal police officers last week in southwestern Mexico, the state-run news agency Notimex said.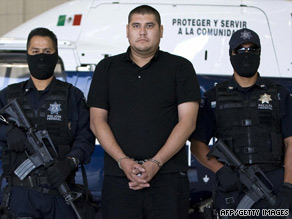 Police present suspected drug dealer Jose Alberto Lopez Barron to the media Wednesday in Mexico City.
The arrests follow a deployment of federal police that nearly quadrupled the number of forces in the state of Michoacan, which has recently been a flashpoint in the government's battle against drug trafficking.
Among those arrested was Jose Alberto Lopez Barron, who had a handgun that was traced to one of the slain officers, federal police said at a news conference, Notimex reported.
The other three alleged drug cartel members -- Gamaliel Rodriguez Granados, Evaristo Armas Bello and Jaime Rafael Navarro -- were captured aboard a taxi in a town in Michoacan, Notimex said.
All are believed to have taken direct orders from the boss of the La Familia Michoacana cartel, a group that has become exceedingly violent in recent months, Notimex said.
The 12 slain off-duty police officers were found on the side of a remote highway July 14.
The killings were among a series of reprisals by La Familia after the federal police captured one of their top leaders, authorities said.
E-mail to a friend

All About Familia Michoacan • Mexico • Drug Trafficking • Crime