BOGOTA, Colombia (CNN) -- Marxist guerrillas in Colombia have released a proof-of-life video of a hostage who has been held for nearly 12 years.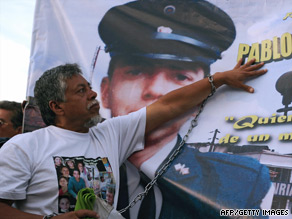 Gustavo Moncayo, father of hostage Pablo Moncayo, campaigning earlier this month.
The video, released Wednesday night, shows Colombian army Cpl. Pablo Emilio Moncayo, who has been held for 11 years and nine months by the rebel Revolutionary Armed Forces of Colombia, known by its Spanish acronym FARC.
In the video, Moncayo knocks three times with his knuckles on a table in front of him and asks Colombian President Alvaro Uribe to "please open the door" and work to release Moncayo and other hostages.
The FARC have said they want to exchange hostages for rebels being held prisoner, but Uribe has rejected all requests for negotiations.
Moncayo said he was separated from other hostages five months ago and is being forced to march with the guerrillas in the jungles of Colombia. He said he fears for his safety.
He also said he has not lost faith that he will return home safe and sound.
The FARC announced in April that they were going to let Moncayo go but the release has not taken place. He was taken hostage December 21, 1997.
Moncayo's father, a teacher who quit his job so he could travel the world full time to plead for his son's release, said he first thought the video was a joke because of Moncayo's dramatic appearance. He last saw a video of his son a year ago.
The rebels gave the video to opposition Sen. Piedad Cordoba, who obtained the release of six hostages earlier this year. Cordoba said Thursday in an interview with CNN en Español that she is "willing to help in all that is necessary" to obtain the release of hostages.
Colombian authorities earlier this month released 10 new videos of six police officers and four soldiers held by the FARC. Those videos were obtained in the capture of a rebel messenger.
Last month, the guerrillas released a video showing that two other hostages are alive and seemingly well. That video contained statements from police Maj. Guillermo Solorzano, taken hostage in June 2007, and army Cpl. Salin Antonio San Miguel Valderrama, captured in May 2008.
"I have what I need," San Miguel Valderrama says in the video, shot in front of a camouflage tarp. "My captors have provided everything I need to live. I am in good spirits, my happiness has not left me, Mama, I am still strong, and hoping for freedom soon, for myself and for all my companions. I want to ease your doubts -- in the armed incursion I was wounded, but it is now healed with medicine I was given by my captives. And as for the rhinitis, I don't have any problems with it."
The hostages asked the Colombian government to negotiate with the guerrillas, who have been waging their insurrection for more than 40 years.
Colombia says the rebels are holding about 700 captives.
Although the government says the FARC's military force has been severely compromised in recent months, authorities still accuse it of trafficking huge quantities of cocaine to finance its insurgency.
Security analysts say the FARC has about 9,000 to 12,000 armed guerillas and several thousand supporters, mostly in rural areas.
The guerrilla group operates mostly in Colombia but has carried out extortion, kidnappings and other activities in Venezuela, Panama and Ecuador, analysts say.
E-mail to a friend

Journalist Asdrubal Garcia contributed to this report.