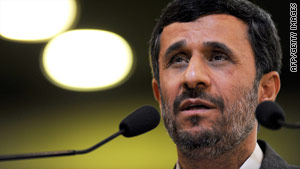 Iranian President Mahmoud Ahmadinejad is in the midst of a three-nation tour of South America.
STORY HIGHLIGHTS
Iranian President Mahmoud Ahmadinejad arrived Tuesday night from Bolivia
Venezuela's Hugo Chavez gave Ahmadinejad warm welcome with full military honors
Ahmadinejad has already met with leaders in Gambia, Brazil and Bolivia
Ahmadinejad aims to strengthen economic, political ties in South America, Africa
(CNN) -- Iranian President Mahmoud Ahmadinejad received a warm reception Wednesday from Venezuelan President Hugo Chavez, wrapping up a three-nation visit to Latin America to shore up support against the United States.
Ahmadinejad arrived Tuesday night on a flight from Bolivia, where he spent a few hours meeting with President Evo Morales. The Iranian leader met Monday with Brazilian President Luiz Inacio Lula da Silva.
On Wednesday afternoon, Chavez gave Ahmadinejad a warm welcome with full military honors. Wearing a dark suit with a blue shirt and red tie, Chavez stood at attention in front of Palacio de Miraflores as a military band played the national anthems for both countries.
The two men then reviewed the presidential honor guard, clad in bright red uniforms with gold piping and tall black hats with a red plume on top.
"We are here to welcome you, brother Ahmadinejad. Leader. Brother. Comrade," Chavez said.
Ahmadinejad, in return, called Chavez "my valiant brother."
"A brother," he said, "who is resisting like a mountain the intentions of imperialism and colonialism."
Afterward, the two men shook hands and hugged.
Ahmadinejad was met with demonstrations in Brazil on Monday and again Wednesday in Venezuela.
He has already visited Gambia, on the African continent, on this trip and will stop in Senegal on his way back to Iran.
The Iranian president hopes to strengthen economic ties with the five countries. But more significantly, he aims to bolster political ties with sympathetic governments as he tries to counter U.S. and European efforts to curtail Iran's nuclear ambitions.
Ahmadinejad also wants to improve Iran's image after the brutal repression of demonstrators who objected to the outcome of the presidential election in June. Ahmadinejad was re-elected, but many Iranians believe the election was rigged.
In Venezuela, the two leaders were expected to discuss agreements in areas such as energy, investment, trade and science. Experts from the two countries were reported to be reviewing 70 new accords.
Chavez is among Ahmadinejad's top supporters in Latin America, both leaders finding common ground in their opposition to U.S. foreign policy. Both men referred to "imperialism" several times in their statements Wednesday.
With its burgeoning nuclear program, Iran is interested in largely untapped uranium deposits in Venezuela, Brazil and Bolivia, the three nations Ahmadinejad visited this week.
Iran's alliance with Venezuela presents a challenge for U.S. national interests.
Manhattan District Attorney Robert M. Morgenthau, in a September column in the Wall Street Journal, said that "Mr. Ahmadinejad and Venezuelan President Hugo Chavez have created a cozy financial, political and military partnership rooted in a shared anti-American animus."
During a visit to Iran that month, Chavez highlighted a series of joint ventures, including the construction of ethanol plants in Venezuela and gas exploration in Iran by Venezuela's state-run oil company. He also said he aimed to build a "nuclear village" with Iranian help.
In October, Chavez said Iran was helping to find uranium in Venezuela.
The Carnegie Endowment for International Peace estimated in December that Venezuela could have 50,000 tons of unmined uranium. Brazil also has a nuclear program and is said to sit on one of the world's largest uranium reserves.
While some analysts believe Chavez could want to eventually export uranium to Iran, it might not be technically feasible.
"It's like everything Chavez does," said Robert Pastor, who was a national security adviser to President Jimmy Carter in the late 1970s. "It's more symbolic than real."
Brazil also is not likely to export uranium to Iran, said Bernard Aronson, assistant secretary of state for inter-American affairs from 1989 to 1993.
"That would be a bridge too far," he said. "It would be too high a cost."