(CNN) -- A "handful" of United Nations staff members are working around the clock to save a growing number of children caught in heavy crossfire between government forces and Tamil rebels in Sri Lanka's volatile northeast, a U.N. spokesman said Saturday.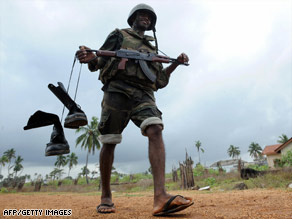 A Sri Lankan soldier walks through Mullaittivu, the former military headquarters of the Tamil rebels.
Children as young as 4 months old are being treated in local hospitals for shrapnel injuries and other "wounds of war," spokesman James Elder told CNN.
"There is just intense fighting in a small area where children and other civilians are," Elder said. "The space [where conflict is taking place] is shrinking and the fighting is augmenting."
Thursday, U.N. aid workers rescued 50 critically injured children and 105 adults from intense fighting, he said.
"We are trying to get as many people out of there as we can," Elder said.
Humanitarian groups say as many as 250,000 unprotected civilians are trapped in the crossfire between government troops and rebel forces in northern Sri Lanka.
Sri Lankan President Mahinda Rajapaksa this week promised to allow safe passage to trapped civilians and urged the Tamil Tigers to promise the same.
"We have declared a safe zone for civilians, the coordinates of which were announced by the security forces," Rajapaksa said on his government's Web site.
"It is unfortunate that the [Tamil Tiger group] is exploiting this declared safe zone for civilians by placing their heavy artillery within the safe zone and using it as a launching pad to attack security forces and indiscriminately kill civilians."
Don't Miss
The fighting has created a "nightmarish" situation for civilians living in the conflict zone, Elder said.
An emerging shortage of humanitarian supplies and diminished access to clean water, sanitation, and food are compounding a crisis that has humanitarian agencies fearing for the safety of civilians, he said.
Sunday, Sri Lanka soldiers seized a key rebel stronghold in a surprise attack deep in Tamil held territory.
Troops crossed a lagoon and entered the town of Mullaittivu before encountering heavy resistance from Tamil fighters, according to the government-run news agency.

The Liberation Tigers of Tamil Eelam, commonly known as the Tamil Tigers, have fought for an independent homeland for the country's ethnic Tamil minority since 1983. The civil war has left more than 70,000 people dead.
U.N. Secretary-General Ban Ki-moon has called for the safety of civilians as humanitarian groups try to provide aid to people trapped in the region.
E-mail to a friend

All About Liberation Tigers of Tamil Eelam • Sri Lanka • Ban Ki-moon • United Nations