TOKYO, Japan (CNN) -- Japan's Mount Asama erupted early Monday, sending a plume of light ash more than a mile into the sky and prompting emergency officials to restrict travel near it.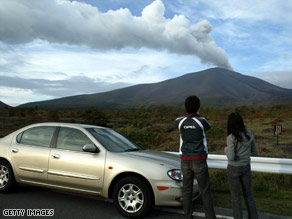 Motorists stop to watch Mount Asama erupt on September 17, 2004.
They issued a level three warning, moderate on the alert scale, which prevents people from entering within a two-and-a-half-mile (4 kilometer) radius of the volcano, according to Jun Funasaki with the Japan Meteorological Agency. There were no reports of injuries or damage.
Mount Asama, located 90 miles northwest of Tokyo, erupted at 1:51 a.m. (11:51 a.m. ET Sunday) and light ash was detected nearly 110 miles (175 km) away. Its last major eruption was in September 2004. Japan has 108 volcanoes.
E-mail to a friend

CNN's Kyung Lah contributed to this story.