(CNN) -- Myanmar's detained pro-democracy leader Aung San Suu Kyi and five senior members of her opposition party met with U.N. envoy Ibrahim Gambari at the state guesthouse on Monday, a party spokesman said.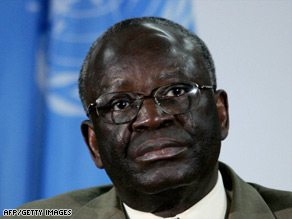 U.N. envoy Ibrahim Gambari met with Aung San Suu Kyi on Monday.
Following the meeting, Suu Kyi's National League for Democracy demanded the release of their leader and U Tin Oo, the party's aging deputy chairman, said spokesman Nyan Win. The NLD also called for meetings between the opposition and the military junta that rules the country.
Gambari was expected to travel to Naypitaw, the new capital of Myanmar, but it was uncertain whether he would be able to meet with Gen. Than Shwe, the county's top military leader.
Over the summer, Myanmar's military rulers extended Suu Kyi's house arrest for an additional year.
The junta's decision means Suu Kyi is being kept under detention for more time than the country's law allows. The limit is five years without charges being filed.

Her latest house arrest began in 2003 and has been periodically renewed. The junta has confined Suu Kyi in her home for 12 of the past 18 years.
Suu Kyi won the Nobel Peace Prize in 1991. She has become the face of the pro-democracy movement in Myanmar and the focus of a global campaign to free her.
E-mail to a friend

All About Myanmar • Aung San Suu Kyi