By Dan Rivers
CNN





BANGKOK, Thailand (CNN) -- Thailand's prime minister suspects there were "some instances" in which Myanmar's Rohingya boat people were pushed out to sea, a frank admittance of a practice drawing worldwide condemnation.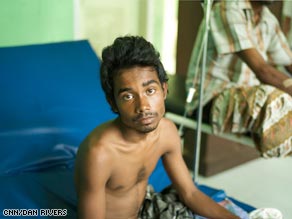 Rohingya refugees being treated in Idi, Indonesia.
In an exclusive interview with CNN Thursday, Abhisit Vejjajiva said he could not pinpoint who in the government approved the practice, but said he was working on rectifying the problem.
"It's not exactly clear whose work it is," Vejjajiva said. "All the authorities say it's not their policy, but I have reason to believe some instances of this happened, but if I can have the evidence as to who exactly did this I will certainly bring them to account."
Thousands of Rohingya refugees -- a Muslim minority group from Myanmar -- have fled to Thailand over the years and many of them have been housed in Thai camps near the Myanmar border.
In some cases, there are charges that many of them have been kicked back out to sea from Thailand.
A recent CNN investigation found evidence of the Thai army towing an apparent boatload of 190 Rohingya refugees out to sea, prompting Thai authorities to launch an investigation.

Watch the Thai prime minister discuss the issue »
And a group of the refugees rescued by Indonesian authorities last week told harrowing tales of being captured, beaten and abandoned at sea by the Thai military.
Don't Miss
Actress Angelina Jolie, a goodwill ambassador for the U.N. refugee agency, spoke out on the plight of the refugees last week as she visited the area with her husband, Brad Pitt.
She asked Thailand to permit greater freedom of movement for the roughly 111,000 refugees housed in nine camps along the Thai-Myanmar border.
Vejjajiva said "at times" there has been "a lot of pressure in terms of the numbers of these people coming in."

"There are attempts, I think, to let these people drift to other shores. I have asked whether people are aware of such practices. The one thing that is clear is that when these practices do occur, it is done on the understanding that there is enough food and water supplied."
The prime minister said he regrets "any losses" that may have occurred from the refugees' ordeals, but he said he is "doing the best I can to correct the situation."
E-mail to a friend

All About Thailand • United Nations High Commissioner for Refugees