(CNN) -- Japan's Finance Minister Shoichi Nakagawa will step down, he announced Tuesday. He had come under fire after appearing intoxicated at a weekend news conference at the G-7 meeting in Rome.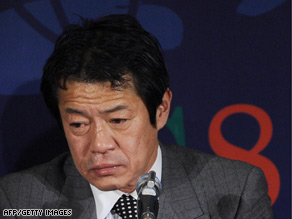 Shoichi Nakagawa gives a press conference at the end of a meeting of G7 finance ministers on Saturday in Rome.
Nakagawa's decision followed an announcement by Japan's main opposition party that it would introduce a motion to censure him. It was unclear whether the party would go ahead with its plans. He said he will step down once a budget bill clears the lower house of parliament.
Nakagawa apologized for his behavior during a legislative committee meeting, but denied that it was the result of "heavy drinking," the agency said.
Nakagawa said he had drinks on his flight to Rome and during the G-7 luncheon, but that the real culprit was too much medicine taken because he wasn't feeling well, Kyodo reported. The Group of Seven meeting brought together finance ministers from the world's leading industrialized nations.
In video of the Saturday news conference posted on the BBC Web site, Nakagawa responds slowly to reporters questions, slurring his words. At one point, he closes his eyes.
Members of the opposition Democratic Party of Japan, however, weren't buying Nakagawa's story.
"[Nakagawa's] responsibility as a Cabinet member is being questioned," DPJ leader Ichiro Ozawa said, according to Kyodo.
"It's not a simple matter of shame," added DPJ Secretary General Yukio Hatoyama. "The damage to the national interest was immeasurable."
Some members of the ruling Liberal Democratic Party also called for Nakagawa to step down or be fired. But Prime Minister Taro Aso, who met with Nakagawa Monday, supported his finance minister.
"I thank him for having done a lot of work well," Aso told reporters, adding that he had heard Nakagawa had taken sleeping pills prior to the news conference.
E-mail to a friend

All About Shoichi Nakagawa • G7