(CNN) -- It's a country where tribal divisions and allegiances are deep-seated and has more than 700 native tongues, but with the help of conservation groups local communities and the government of Papua New Guinea have come together to create the country's first national conservation area.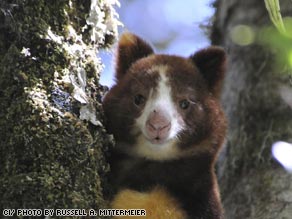 Papua New Guinea's endangered tree kangaroos will benefit from the protection of their habitat.
It's being hailed as a triumph by conservation groups that have previously tried to protect parts of the country's pristine rainforests and unique ecosystems.
"This new conservation area shows how much good can be accomplished when governments and people work together," said CI President Russell A. Mittermeier in a statement to the press.
Named after the three main rivers -- the Yopno, Uruwa and Som of the Huon Peninsula -- the YUS Conservation Area covers 760 square kilometers of tropical forest, stretching from the country's northern coast to interior mountains.
The lush forest ecosystem provides countless resources and services that sustain the 10,000 villagers living in the surrounding YUS ecosystem, and is a critical habitat for Matschie's tree kangaroos, a species listed as endangered by the IUCN.
"By creating the country's first national conservation area, the Papua New Guinea government and people have established a much-needed safe zone for the irreplaceable biodiversity it contains," said Dr. Lisa Dabek, field conservation director at Woodland Park Zoo and director of the zoo's Tree Kangaroo Conservation Program (TKCP).
The national conservation area has been 12 years in the making and the result of years of negotiations between the Woodland Park Zoo's Tree Kangaroo Conservation Program (supported Conservation Union and National Geographic), and local landowners and the government.
The new protected area also represents the first time the more than 35 indigenous villages of the region have come together to protect their forest homeland, wildlife and ecosystems vital to their culture and livelihood.
According to Conservation International, previous declarations of wildlife management areas in Papua New Guinea have been less restrictive, allowing logging and mining.
While the land remains under local ownership, villagers have formally committed to prohibit all hunting and development, such as logging and mining, within the conservation area.
In exchange TKCP will work with community leaders to increase access to education and improve community health within the villages.
It is hoped that protecting the YUS Conservation Area will prevent the estimated 13 million tons of carbon stored in the forest biomass from being released into the atmosphere as carbon dioxide.

"Creating this conservation area is a step forward for both Papua New Guinea and conservation worldwide," Dabek told Conservation International.
"What we have accomplished here is more than just an act of environmental preservation -- it's a sustainable model for community-based conservation that works."
E-mail to a friend