(CNN) -- Indian doctors have successfully removed a 1.2-meter rod from a 3-year-old boy after he was impaled on it at his grandparents' house.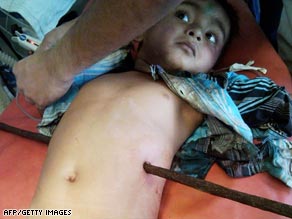 Indian doctors say Mehul Kumar is out of danger after operation to remove 1.2-meter iron rod.
The Times of India reported that Mehul Kumar had fallen on the rod while playing on his grandparents' under-construction roof terrace in Ranchi, the capital city of Jharkhand state.
The rod pierced through Kumar's body and he then fell to the ground, the newspaper reported.
He was rushed to a nearby hospital and then taken to the Rajendra Institute of Medical Sciences in Bariatu, six kilometers away.
Dr. Sandeep Agarwal, the leader of the five-strong team of doctors who spent five hours operation on Kumar, told the Times the boy was out of danger.
"We first removed the rod following which an operation was done to repair the vital organs that had been injured,'' he said.
E-mail to a friend