From Reza Sayah





KARACHI, Pakistan (CNN) -- At a recent battle of the bands, heavy metal guitarist Navid Chohan started shaking his head so violently onstage it looked like he was going to hurt himself. Soon his entire face was lost in waves of his shoulder-length hair.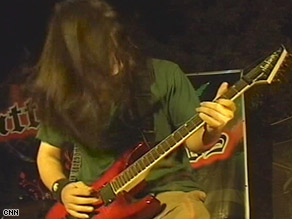 A heavy metal musician performs at a recent "Battle of the Bands" in Karachi.
Chohan's head-banging spread like a virus. First his bandmates got into it, then a group of teenage boys in front of the stage and, all of a sudden, scores of people violently whipped their heads to the ear-splitting sounds of heavy metal.
It might have seemed like any other night of music one could see anywhere, but this heavy metal head-banging was happening in Pakistan.
"That's the real Pakistan," Chohan told CNN. "It's not terrorists or mullahs."
Heavy metal is a side that most people haven't seen of Pakistan, a country overshadowed by headlines about the Taliban and terrorism.

Watch CNN's report on the heavy metal phenomenon »
"We have a different mentality than the Taliban," said metal-head Sharik Ahmed. "They play with guns. We play with instruments."
And when they play, they play loud. Watch the heavy metal artists jam in Karachi

Don't Miss
In Karachi, six young underground bands with names such as Vermin and Trauma pushed the limits of an outdoor arena's sound system and battled it out for the $60 first prize on a recent Saturday night. Watch hip hop dancers perform during the concert break

Chohan strummed his guitar for heavy metal band Reclamation -- young men who want to take back Pakistan's reputation from the Taliban and shatter what they call misperceptions created by negative headlines.
"When people hear about Pakistan, they just feel that it's all terrorists living in this country, even though it's not true," Chohan said. "I mean look at me. I don't look like a mullah or a terrorist."
Event organizer Hena Nizar said the media was partly to blame.
"They portray our country in such a way that it forces people to think we're a terrorist country," Nizar said.
Pakistan's heavy metal scene emerged nine years ago, according to Munizeh Sanai, program director for Pakistan's City FM 89, which is based in Karachi.
Sanai said the arrival of three English-language FM radio stations in Pakistan and several music video channels helped trigger the underground heavy metal movement in cities such as Karachi, Lahore and Islamabad.
Heavy metal is one of Pakistan's most popular genres of music, Sanai said. One of the most popular radio programs is Black Sundays, three hours of heavy metal featuring icons such as Lamb of God and Children of Bodom.
Sanai said she has not seen any opposition to heavy metal from Pakistan's Islamist extremist groups, but she still worries when her station organizes public concerts.

"We are deeply concerned, because we don't know what triggers attacks," Sanai said. "We'd like to think we're not important enough to be a target, but you just don't know."
The only violence at the battle of the bands in Karachi was teenage head-banging and the roaring guitar of metal-head Chohan, who had this message for the world: "We are as good as they are, and we are not terrorists."
E-mail to a friend