By Miranda Leitsinger
CNN





HONG KONG, China (CNN) -- Video journalist Aung Htun scrambles over a wall and ducks down behind a tree, while gunfire crackles nearby during the mass anti-government protests in the autumn of 2007 in Myanmar.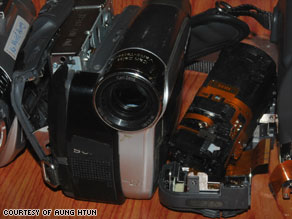 Tools of the trade: Cameras used by Democratic Voice of Burma reporters during the 2007 protests.
He swoops up and down - his handheld camera with him, at one point turning sideways - catching scenes of people fleeing on a broad boulevard as gunfire rings out, and what appears to be a soldier beating one person and military forces surrounding a group of protesters.
"I've escaped death twice today. I tried to get more pictures, but the soldiers closed in on me. I didn't dare raise my head," Aung Htun said of his footage, about which he narrated afterward in a new film "Burma VJ - Reporting from a closed country."
Aung Htun, who does not go by his real name out of fear for his safety, is part of a group of video journalists who have to hide what they are doing because they live in a country where the media is tightly controlled and going against the ruling junta could lead to imprisonment. Their struggle to share with the world - and their compatriots - what happened in Myanmar during the 2007 protests is the subject of the film.
The film tells the story of the underground videographers, who work for a non-profit media organization, Democratic Voice of Burma (DVB), as they cover the uprising against the military junta. Myanmar, also known as Burma, has been under military rule since 1962. Pro-democracy leader and Nobel Peace Prize winner Aung San Suu Kyi has been imprisoned at her home for more than 13 of the past 19 years.
The protests were sparked by a huge fuel price increase imposed by the government, and quickly escalated. In October 2007, clashes erupted between pro-democracy demonstrators and security forces. As many as 110 people, including 40 Buddhist monks, were thought to have been killed in that crackdown.

The VJs captured some of the well-known moments of the protests: the fatal shooting of a Japanese journalist, burgundy-robed monks streaming through Yangon with their alms bowls turned down in a sign that they would not accept offerings from the military generals, and the mass gatherings at the revered Shwedagon pagoda.
Don't Miss
Covering this tumultuous period was by no means easy: They concealed their handheld cameras in book bags, they had to share video cassettes because of a lack of supply, they spent hours uploading short video clips at Internet cafes because of the slow online connections and frequent electricity shortages in the Southeast Asian country, and sometimes they had to trek through the jungle to Thailand to smuggle their footage out.
"When I pick up the camera, maybe my hands are shaking. I may have a heavy heartbeat. But after shooting for a while, it is OK," said Joshua, the film's narrator and Aung Htun's colleague, in the film's opening scene.
"Our network is really small. We don't have manpower. We have to rely on handy cams," Joshua later said.
The VJs also have to be wary of government intelligence agents (who may be taking pictures too in order to identify protesters) and to allay concerns from demonstrators that they might be intelligence agents themselves.
The DVB video journalists go by code names out of fear for their safety. In the beginning, Aung Htun said he did not know who he was working with in the group - and that none of them pressed to know out of fear that if they were caught they would give up each other's identities.
"I just know them as my colleague along at the demonstration. We work together, it's over," he told CNN in a recent interview in Hong Kong, where the film was shown at the Hong Kong International Film Festival. "They don't talk about their family members, about who really they are."
Though he initially worked alone, Aung Htun and the others later shared duties: Those less known to the military would go out and shoot for the film,. Others would upload and edit the footage, and yet others would send the final piece from a cyber café.

Watch some of Aung Htun's footage »
The short clips were primarily strung together in Oslo, Norway, and then uploaded to a city in Europe or the Middle East -- from where they would be broadcast by satellite link back to Myanmar.
"We try to reflect the situation through our small camera, small hole. These small cameras are, I believe, a window of Burma that the international community could see through," he said.
Though they were pleased to see major media outlets using their footage, Aung Htun said the video journalists were happy that their compatriots seemed so keen to see it.
"In some countries, maybe the citizen journalists they can still think freely, but in Burma they cannot," he said. "We are doing something for our country, for our people."
Nine DVB reporters, including many senior ones, were arrested during and after the 2007 uprising. Today, more than 50 people work for DVB, including stringers, volunteers, full- and part-time reporters, Aung Htun said.
The film has won a number of awards, including best documentary at Bodil (film awards in Denmark) and the 14th International Documentary Festival in Sao Paolo, Brazil; Grand Prix at the Boulder International Documentary Festival and Sundance's World Cinema Documentary Editing Award.
During the next two weeks it will be shown at documentary festivals in Canada, the United States, Poland, Germany and South Korea.
However, the film has come under criticism for using re-enactments to tell the story (the film begins with a disclaimer noting that.)
The DVB reporters' actual footage is woven together with re-enactments, which the film's creators said were done using the recollection of events and conversations by the video journalists.
The BBC calls "Burma VJ" a docudrama. One critic, TIME magazine's Andrew Marshall, wrote: "No scene is labeled as a reconstruction. Some are convincingly real, yet others are so simply betrayed as re-enactments by their wooden dialogue that soon I began to anxiously question the authenticity of every scene."
He added: "The cause of Burma's democrats is ill-served by hyperbole and the reconstruction of events to fit a version of the truth."

Jan Krogsgaard, assistant director and screenwriter of the film, said they chose to include re-enactments - which he said account for about 20 percent of the film - since there was not enough footage coming out of Myanmar and they wanted to create "a story that could go to the heart of people."
"We had to find a way to tell the story -- without videojournalists recalling the stories, telling it as talking heads with blurred faces -- to create a story that had a continuous flow going with the momentum, through the momentum, of the uprising and keep people attached to the screen so it became an emotional experience that they would share with the people of Burma," he said.
"That was very difficult work to do."
They spent some three months with the videojournalists -- using microphones, cameras and re-enactment -- to stitch together their coverage. Some Google chats were transformed to spoken word, and they used audio from actual conversations that had been recorded during the protests, Krogsgaard said.
"Of course we had our doubts, how can we do this or how far we can go, we have to be true to what we are told," he said. "They (the VJs) have been very close to us when we did this, they have seen everything we have been doing and they have said this is OK."
Aung Htun said the film was true to his experience -- and he hopes everyone will take something away from seeing it.

"I want the international community to be aware of this and to take some action," he said, later noting, "I don't want to ask for too much, just that they don't forget about us."
As for his compatriots, he said: "I hope that it could give some hope to our people."
E-mail to a friend

All About Myanmar • Aung San Suu Kyi