(CNN) -- A pregnant British woman jailed in Laos was denied access to a British lawyer who flew out to meet her, a human rights group said Tuesday.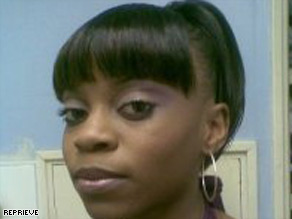 Samantha Orobator became pregnant in prison, according to a spokeswoman for rights group Reprieve.
Samantha Orobator, 20, had been facing possible execution by firing squad after she was arrested in August for allegedly carrying about half a kilogram of heroin. Those found guilty of carrying that amount normally face the death penalty, said the lawyer, Anna Morris of Reprieve, a London-based human rights group.
But Orobator will escape the death sentence because she is pregnant, a spokesman for the Laotian Foreign Ministry said Tuesday.
The country's criminal law prohibits courts from sentencing pregnant women to death, spokesman Khenthong Nuanthasing told CNN. The woman's trial hasn't been scheduled yet, he said, but is likely to happen next week.
Morris went to Laos on Sunday, having been assured she would be able to meet Orobator, Reprieve said.
But so far, she has been refused permission, the group said.

Watch a report on the case »
"Ms. Morris was refused her first visit yesterday, and I am led to understand that the Laotians are now saying that she will not be permitted to visit. This is totally unacceptable," Reprieve director Clive Stafford Smith said in an open letter to British Foreign Secretary David Miliband.
Don't Miss
Orobator has not seen a lawyer since she was arrested August 5, allegedly with just over half a kilogram (about a pound) of heroin, according to Reprieve.
That amount of heroin would sell for $80,000 to $150,000 on the streets of New York, the U.S. Drug Enforcement Administration said. London's Metropolitan Police declined to estimate a street value.

Watch a former Laos prison inmate recount jail conditions »
Reprieve has said that Orobator became pregnant in prison, possibly as a result of rape, and that she is due to give birth in September. That would mean Orobator became pregnant in January.
Khenthong agreed that Orobator is five months pregnant.
But he indicated that Orobator might have already been pregnant when she was arrested, and that she lost the first baby while in prison.
He said Orobator declared on the day of her arrest in August that she was two months pregnant by her boyfriend. After she had already been in jail for some time, he said, Orobator asked for medication to cure a vaginal infection, and he believes it caused her to lose the child.
Khenthong said officials are investigating Orobator's pregnancy.
Orobator's mother said she found out about her daughter's pregnancy in January. Jane Orobator told CNN she heard the news from the British Foreign Office, which has been monitoring the case.
There is no British Embassy in Laos; a British vice consul arrived in the country over the weekend, the British Foreign Office said.
Jane Orobator said she cannot believe her daughter was involved in drug trafficking, and she was surprised to learn she was in Laos.
"I don't know" what she was doing there, she said from her home in Dublin, Ireland. "The last time she spoke with me, she said she was on holiday in London and she would come to see us in Dublin before returning to the UK in July.
"She is not the type of person who would be involved in drugs," she added.
Reprieve is worried about her health, especially given her pregnancy, Morris said.
"She became pregnant in prison. We are concerned that it may not have been consensual, and we are concerned that someone who finds herself in prison at 20 is subject to exploitation," she said.
"I am the first British lawyer who has asked for access to her," Morris said. "She needs to have a local lawyer appointed to her. We are pressing very hard for the local authorities to appoint one."
She said it was normal in the Laotian justice system for a defendant to get a lawyer only days before a trial.

The last execution in Laos was in 1990, the foreign affairs spokesman said.
Samantha Orobator was born in Nigeria and moved to London with her family when she was 8, her mother said.
E-mail to a friend

CNN's Kocha Olarn contributed to this report.
All About Laos • Capital Punishment • Drug Trafficking