ISLAMABAD, Pakistan (CNN) -- Pakistan's prime minister formally renounced a peace agreement with Taliban militants Thursday night and announced "decisive steps" to expand the battle in the country's northwest.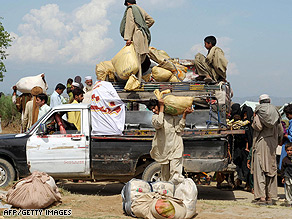 The fighting in the Swat Valley region has forced thousands of civilians to abandon their homes.
"To restore the honor and dignity of our homeland and to protect our people, the armed forces have been called in to eliminate the militants and terrorists," Prime Minister Yousuf Raza Gilani said in a televised speech.
The agreement effectively ended several weeks ago when Taliban militants violated the deal by refusing to disarm and advancing within 60 miles of Islamabad, Pakistan's capital. Pakistani troops have battled the Taliban in the Buner and Lower Dir districts for the past two weeks.
Fighter jets and helicopter gunships pounded Taliban fighters in Swat on Thursday, and a Pakistani military official said more troops will be joining the 12,000 to 15,000 already in the region.
In Washington, Pakistani President Ali Asif Zardari said after a meeting with U.S. congressional leaders that the offensive would go on until "normalcy" is restored.
Gilani said the government has decided that "decisive steps have to be taken."
"Our reputation among the international community has deteriorated, and we are labeled as terrorists. Now we have taken a firm decision not to stoop before the terrorists," he said.
The now-defunct peace deal allowed the Taliban to implement Islamic law, or sharia, in the Swat Valley region in exchange for an end to fighting.
"I regret to say that our bona fide intention to prefer reconciliation with them was perceived as a weakness on our part," Gilani said. Watch Pakistan renounce a peace agreement with the Taliban

He pledged 1 billion rupees (U.S. $12.4 million) to rebuild areas damaged by the fighting, but he called on the international community for help in taking care of displaced people and training security forces.
Pakistani officials estimated that 40,000 people fled the city of Mingora in northwestern Pakistan on Tuesday and said as many as 500,000 civilians are expected to flee the entire Swat Valley region as the fighting expands.
Don't Miss
Government aircraft struck militant training and communications centers Thursday in Gath Peochar and an area called Qambar, where "notorious militant commander namely Shah Duran operates," said Maj. Naser Khan, a Pakistani military spokesman.
In other fighting, a son of a pro-Taliban cleric who negotiated the controversial peace deal in the Swat Valley was killed Thursday morning, Pakistani and Taliban officials said.
Kafayatullah, the son of Islamist fundamentalist leader Sufi Muhammed, died when mortar shells from Pakistani security forces hit a home in the Lower Dir district of Pakistan's North West Frontier Province, said Mehmood Khan, a Taliban commander, and a Pakistani intelligence official who asked not to be identified. The attack took place in the Maiden area.
Fazal Raheem, a police commander in Swat, said militants had besieged a police station there amid a "massive battle" that also saw Taliban fighters battling government troops over an emerald mine.
"Plenty of military contingents from outside have reached here, and this is a big operation," he said. "They are going to obliterate all the roots of this Talibanization."
Khan said government troops had reclaimed an emerald mine that Taliban fighters had seized. He said the militants had used the facility as a headquarters and set off explosions to extract the stones out of rock.

Pakistani troops backed by helicopter gunships and artillery recaptured the mine Wednesday, killing 30 militants in the process, Khan said.
"This mine is now under full control of the army," he said.
E-mail to a friend

CNN's Reza Sayah and Samson Desta contributed to this report.
All About Pakistan • The Taliban • Swat Valley