(CNN) -- Waving and cheering like survivors of some kind of disaster, 200 guests of a Hong Kong business hotel who were confined for a week due to a swine flu scare left the building Friday.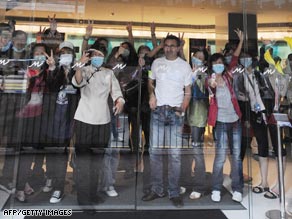 The guests and hotel employees were kept in the Metropark Hotel for a week.
Businessmen, families and tourists marched out of the Metropark Hotel in the Wanchai bar district at 8:30 p.m. (8:30 a.m. ET) Friday when the quarantine was lifted.
None of them had the H1N1 virus, as swine flu is technically called, but health authorities imposed the lockdown May 1 after another hotel guest from Mexico was diagnosed with the disease.
Dragging luggage and carrying purses and backpacks, they were applauded and cheered by hotel workers and local officials, who formed what looked like a receiving line to send them off.
"I am very happy!" one man shouted as he left.

Watch more about the guests' release »
Throngs of photographers and reporters stood behind metal barricades to capture images of their departure.
The worst part of their confinement?
"The food. And no wine!" said a French woman.
Several of the departing guests were headed to the airport but, surprisingly, the majority took up the government's offer of free accommodation at two other hotels so they could see the city they never got to visit.
The quarantine was imposed more than a week ago after the 25-year-old guest from Mexico tested positive for swine flu. Hong Kong health officials -- unwilling to see a repeat of the SARS epidemic in 2004 that killed nearly 300 people -- placed the hotel on lockdown.

Images from a British hotel guest »
Coincidentally the Mexican patient was released from the Princess Margaret Hospital Friday, nearly an hour after the guests who had been quarantined at the hotel, a hospital spokesman said.
Deputy Director of Home Affairs Adeline Wong said in a statement that after a final medical check, hotel guests would be given medical certificates allowing them to travel.
But the hotel is not open for business as usual after their departure. The building will be closed for intense cleaning and disinfecting, according to Hong Kong Secretary for Food and Health Dr. York Chow.
About 100 hotel staff members were also confined to the premises due to the quarantine.
During that time, many guests stayed cocooned in their tiny rooms, flipping through channels on the television or staying connected with their work colleagues via Internet chats.
They all had to take a 10-day dose of anti-viral medication. None tested positive for the virus.
With no pool to lounge by and just one restaurant to pick from, guests milled about in the lobby to pick up food or get their temperatures taken once a day.

"We go down to the lobby for food and then back to the room to eat your food," Leslie Carr, a British man, said Thursday.
Outside, bars and clubs lay only a short walk away. But police in face masks guarded the doors, barring exit, as packs of reporters and camera crews peered through the hotel's glass windows.
E-mail to a friend

CNN's Pauline Chiou and Saeed Ahmed contributed to this report.