By Jaime FlorCruz
CNN Beijing Bureau Chief





BEIJING, China (CNN) -- Sun Lirong looked disoriented when I first met her one year ago. Carrying two paper bags full of clothes and a few pictures, her face showed signs of stress and worry.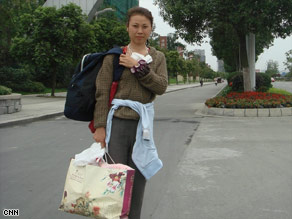 Sun Lirong just after the quake. Though her family is struggling, she says, "At least we survived."
Only a week had passed since her home in Sichuan province was jolted by the May 12 earthquake. She and her husband hailed our car while I was driving through the disaster area with a CNN crew.

"Could you please give my wife a ride to a nearby town?" her husband pleaded.
I talked with Sun in the car on our way to the town of Wenyang, where relatives gave her family temporary refuge.
She recalled the minutes when the quake hit her home in Yingxiu, a mountainous town that lies in the quake's epicenter.

"My first thought was, 'Is my son safe? Are my husband and in-laws safe?'"

She rushed out of the four-story apartment building to look for her mother-in-law and one-year-old son, who were taking a post-lunch walk.

Many residents died when parts of her building collapsed. Sun and all her relatives survived.

The temblor killed 68,712 people, state-run Xinhua news agency quoted Huang Mingquan, head of Sichuan's provincial civil affairs department, as saying at a press conference last week. It left 17,921 missing, more than 374,000 injured and at least 15 million people displaced.

See a CNN photo tour of a recovering Sichuan »
Don't Miss
The day I met Sun, she and her husband had just gone back to their apartment building, which had been badly destroyed and condemned as "unsafe."

Authorities gave them a few hours to retrieve their belongings before it was detonated later that morning. Their TV and refrigerator were wrecked. Her husband had to stay on to salvage the washing machine.

"We lost virtually everything, including papers and documents," Sun said. "We could not even find our workers' ID and other important documents."
Sun and her husband had worked in a nearby cement factory, which had collapsed. She did not believe it could recover, thus leaving its 700 workers like them jobless.
Before she got off at her destination, she told me: "My biggest worry is how to get our food and daily necessities."
Over the past year, I have periodically kept in touch with Sun, now 31 years old.
Her family is still struggling.

"We haven't been able to find stable jobs," she said over the phone. "We could only take up part-time or temp jobs."

She gets paid to do janitorial chores or to monitor closed-circuit TV for her neighborhood. Her husband has worked as a security guard and messenger.

"I have pawned off all my jewelry and have sought help from family and friends," she said. "But cash remains a big problem because we don't have stable jobs."
Sun and her family are still living off the kindness of relatives in Wenyang, a town next to the capital city of Chengdu.

"We've visited our old home," Sun said. "We wanted to rebuild it, but the local government says we have to rely mainly on our own money. That's very difficult."
Her family's three members have received 10 yuan (US$1.50) per day but only for the first three months after the quake.

"Since then, we have not seen any money from the government or any organizations," she said. "Maybe because we have been living outside our hometown. We haven't received any financial aid for our son, either."

Their son is now two years old.

"Our big worry is to provide him with essential food and clothing," she said.

She said her family is no longer thinking about lost possessions.

"We don't care much about what we've left behind," she said. "Many have lost their loved ones."

Their next-door neighbor lost everyone in his family.

"He was in shock for two days," she said. "He paced the second floor hallway like a zombie."
Though her family struggles to rebuild their lives, they consider themselves lucky.

"Many have lost their loved ones. At least we survived," Sun said.
E-mail to a friend

All About China • Earthquakes