ISLAMABAD, Pakistan (CNN) -- Pakistan's military is dealing with more than a million Pakistanis who have been displaced by fighting since last year, a military spokesman said Tuesday.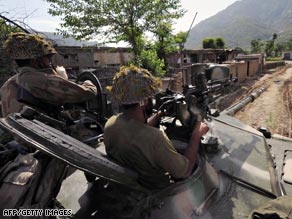 Pakistan has launched a massive military operation against the Taliban in the Swat Valley.
The military has set up headquarters to manage the 1.3 million internally displaced people, spokesman Gen. Athar Abbas said.
That number includes 500,000 Pakistanis who were uprooted from their homes since August, before the latest military push against Taliban militants in the country's northeastern region, he said.
The army has set up hospitals in many of the refugee camps and plans to build camps near the conflict zone, he said.
Pakistan's military is continuing an offensive against the Taliban along its western border with Afghanistan, particularly in the Swat Valley.
The military has been releasing regular reports saying it has killed Taliban militants in the region, but it has produced little evidence of the successes it claims. Journalists have not been permitted to observe the offensive and the army has not shown bodies of the militants it says it has killed.
Curfews have been imposed in the conflict zone, but are relaxed periodically to allow civilians to travel. It is not unusual now to see rickshaws and cargo trucks filled with fleeing civilians, rolling down Pakistan's main east-west highway.
Vehicles are not allowed back into the region, which has led to a shortage for those trying to leave.

Watch the case of a girl who lost her family in the conflict »
On Sunday, at least 25 boys stranded at the Khpal Kor Foundation orphanage in Swat Valley had to flee the district capital, Mingora, on foot, according to director Mohammed Ali.

He said local government officials told him there were no vehicles to evacuate the children.
The 175-kilometer (110-mile) journey from Mingora to the western city of Peshawar normally takes about three hours by car. The boys walked for several hours, but had to spend the night in a madrassa -- a religious school -- outside of Mingora, because authorities had re-established the curfew.
E-mail to a friend

CNN's Reza Sayah, Samson Desta and Ivan Watson contributed to this report.
All About Pakistan • The Taliban • United Nations