By Ivan Watson
CNN




ISLAMABAD, Pakistan (CNN) -- A teenage boy trapped alone in an orphanage commandeered by soldiers in Pakistan's war-torn Swat Valley has described his terrifying ordeal.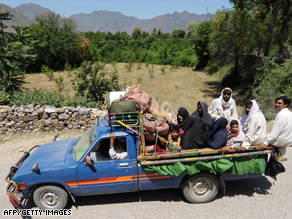 The conflict has forced thousands of Pakistani civilians to flee from their homes in the Swat Valley area.
"The situation outside is extremely bad and scary," said the boy, who is identified by his teachers using his first name Ubaid. "All the time I hear shooting and shelling."
About 50 orphans and 20 teachers and administrators escaped the Khpal Kor Foundation orphanage in the Swat district capital of Mingora over the past week. The last group of children fled last Sunday, walking an estimated 40 kilometers (25 miles) as there were no cars available.
The orphanage director says Ubaid got separated from the group during the chaotic escape. He eventually made his way back to the orphanage.
"Curfew is imposed everywhere outside," Ubaid said in a short telephone conversation with CNN on Wednesday. "These guys are giving me food and water."
Pakistani soldiers said they are taking care of the boy.
"We are not letting this boy go out," said Hawaldar Nawaz, a Pakistani soldier who took the phone from Ubaid. "Whoever goes out during curfew is shot dead, regardless of whether he is a civilian or a militant."
Other orphans who escaped Mingora said the soldiers set up sandbags on the top floor of the four-story orphanage to use as a look-out post.

The troops also buried land mines in the playground to protect their post from Taliban attacks.
"Mingora has become a massive battlefield," Nawaz said. "Even now, there are corpses scattered everywhere outside and nobody can pick them up because of the curfew."
E-mail to a friend

All About The Taliban • Pakistan