By Miranda Leitsinger
CNN





HONG KONG, China (CNN) -- Xiong Yan was at the forefront of the 1989 pro-democracy protests in Beijing's Tiananmen Square.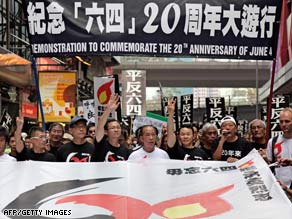 Xiong Yan (third from right) was one of the government's "most-wanted."
As a student leader, he rallied other youths to attend a memorial for a reform-minded leader that snowballed into the political movement, he joined an ensuing hunger strike, participated in student negotiations with the Chinese leadership and spent 19 months in prison after being named by authorities as one of the government's "most wanted" for his activities.
Because of his student activism in 1989, Xiong has never been allowed to return to mainland China, where technically he is still a wanted man.
But after some 17 years in the United States, Xiong -- now a U.S. Army chaplain in Alabama -- made his first return trip with a visit to Hong Kong, a special administrative region of China, to mark the 20th anniversary of the bloody Tiananmen crackdown that led to the deaths of hundreds, if not thousands, of people.
"It's amazing. About two days before I took off in the plane, all the memories of 20 years ago flash back to my brain, I didn't sleep for many nights," he told CNN. Now, "I feel like I have returned home. I am joyful, happy."
Xiong was invited to the southern Chinese enclave by the Hong Kong Alliance, which for years has been holding annual candlelight vigils on the June 4 anniversary of the Tiananmen crackdown. He joined a protest held over the weekend.
A native of Hunan province in central China, Xiong was a law student at Peking University when he and hundreds of fellow students decided to march to Tiananmen Square to memorialize the recently-deceased Hu Yaobang. Hu was fired as Communist Party chief in 1987 by Deng Xiaoping for pushing policies deemed too soft toward "bourgeois-liberal ideas" and tolerating student protests.
"Gradually we are singing for democracy, saying 'hey, we need political reform, we need freedom, we need freedom of expression,'" he said, noting, "We are full of energy and we want to change China. We cry for democracy."

Watch Xiong talk about how the memorial spiralled into a movement »
At the peak of the movement, the exhilarated students demanded dialogue with China's leaders. Reluctantly, Premier Li Peng led talks with student representatives like Xiong in the Great Hall.
In the end, Xiong said, the leaders denied most of their demands, including public recognition that they were heading a patriotic movement -- not a "turmoil" by a bunch of "ruffians," as some critics charged.
In mid-May, the students went on a hunger strike in the square to publicize their cause.
Martial law was declared one week later by Premier Li. Students responded by calling for him to step down. Clashes between soldiers and civilians broke out on the western and southern outskirts of Beijing on June 3.
Xiong and his friends rushed to Tiananmen Square to help.
"I witness the soldiers open fire. A lot of students and citizens were killed," Xiong said.
A group of students took a young man bleeding from the chest to a local hospital, where they saw bodies on the floor.

Watch Xiong talk about a scene he will never forget »
"We get absolutely mad. It was a tragedy, we will never forget that," he said.
After the crackdown, Xiong said he returned to the university and put up posters saying he wanted to quit the Communist party.
"The communists say, 'We are a great party, we are serving the people and we love the people. However, all of the sudden in the reality, they kill the people so we cannot imagine what they taught us and what the reality is right now, so we are really confused. We did nothing wrong, especially we are not a criminal, we never use violence. They killed a lot of people who are weaponless, armless."
Xiong was soon arrested and jailed as one of the 21 "most wanted" student leaders of the protests. He spent 19 months there with a few hundred other students but never stood trial.

See Xiong talk about his time being locked up »
After he got out, he had a hard time finding work and was kicked out of university. He eventually fled to the United States, where he studied English literature at a university in North Carolina, theology at a seminary, and eventually joined the U.S. Army, where he serves today as a chaplain.

He keeps in touch with Tiananmen activists and participates in pro-democracy events. Though their paths have diverged, they have one thing in common.
"We have one identity. We all were Tiananmen Square demonstrators and we still have that spirit and ideal, and that valid dream in our hearts: we want to change China some day, we want to contribute a little bit more to the world and to China."
E-mail to a friend

All About Tiananmen Square • China • Beijing