BEIJING, China (CNN) -- They're known as the "post 1980s" kids or the "Tiananmen-plus-20" generation: 200 million-strong, Web-savvy, pop-culture-conscious and decidedly apolitical.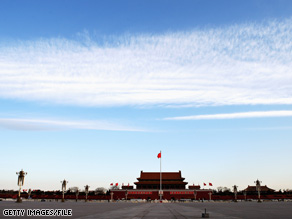 Chinese authorities seal off Beijing's Tiananmen Square on March 9 for the parliament session.
As the world observes the 20th anniversary of the bloody crackdown on Beijing's Tiananmen Square on Wednesday, pro-democracy advocates abroad lament how little Chinese youth today know or care about the student-led movement that ended with the deaths of hundreds when tanks rumbled through the capital's streets and troops opened fire.
But what is lost in the generalization is whether today's political apathy is a fact or a front.
"Politics is not a game that we want to play or we can play," said "Holly," a 21-year-old college student, who like the rest of the people quoted in this article, agreed to speak on condition of anonymity.
"'Politics is the dirtiest kind of business. Stay as far as you can from it,' says my grandfather," she added. "So, we better focus on something that we are in control of. Practicality is what today's China is all about."

Watch today's students struggle to talk about Tiananmen »
Indeed, if the generation today is focused more on individual success, it is because they are much better off and risk losing much more than their predecessors.
At the time of the Tiananmen uprising, China was isolated from the outside world, with skyrocketing inflation.

Watch a profile of student leader of the Tiananmen uprising »
Don't Miss
Students were expected to participate in mass movements, such as the Cultural Revolution launched by Mao Zedong, the Communist Party chairman, to rid alleged liberal bourgeoisie elements from the party by mobilizing the youth.
Today, the communist country is on a stable path, enjoying unparalleled growth.
The economy, one of the largest in the world, has grown at an average rate of more than 9 percent a year since 1978, when the annual income per capita was 380 yuan ($55), according to the International Monetary Fund. The per capita income soared to 41,000 yuan ($6,000) in 2008.
China sends more students to colleges and universities in the United States than any country other than India.
"Our safety, our wealth are all controlled by the authority," said "John," a 27-year-old restaurant owner in Beijing. "The only thing that common people can do is to work hard and earn more money."
Added Holly: "An old Chinese saying is that 'self-preservation is the first law of nature.' Politics doesn't pay. We must go to wherever that pays."
This is not to say that many of today's youth have not sought out information about the Tiananmen uprising -- in vain.
School textbooks barely mention it. When they do, the movement is labeled counterrevolutionary.
The government does its best to ignore the massacre, calling it a "political incident that took place in the late 1980s," at a foreign ministry news conference last week.
Tiananmen Square -- seared into the world's collective memory through a photograph and video of an unknown man standing in the path of advancing tanks -- bears no reminder of the 20-year-old event.
People gather for photographs. Children play.
Citizens, wary of the government's position, are reluctant to talk about the movement.
"I remember when I was a child and I asked a question," said "Victoria," a 25-year-old marketing representative. "And my father said, 'Now, I don't want to explain about this because you're too young. You should learn more stuff and read more books and you will know about it.'
"One of my teachers said something about it -- but just one sentence, that's all."
The government also makes it clear that dissent is not tolerated. Those who publicly challenged authority have been thrown in jail with harsh sentences.
"What happened then helped me to protect myself and my loved ones from ignorant sacrifices, which are extremely important," said "Rodney," a 25-year-old professional who works for a company abroad.
"You know what? The most foolish thing is to start a fight with a mad man. So you don't let the mad man see you. You just maybe throw stones at him, without letting him know."
For youths disillusioned with the system, that venue today is the Internet.
The nation's online population is the world's largest: 298 million users -- about the size of the entire United States.
Instead of plastering posters on college campuses, the agents of change are planting seeds in the blogosphere.
"You want to see where the freedom of expression movements are in China? Twenty years ago, it was on Tiananmen Square. Today it is on the Internet," said Xiao Qiang of the China Internet Project at the University of California, Berkeley, which looks at the effect of the Web on China's media and politics.
"Yes, the Internet is the greatest invention ever," said "Jessica," a 22-year-old recent graduate who works at a film studio. "It is like the combination of a time machine and a space machine. Not quite, but close enough."
Chinese law forbids the use of the Web to incite hatred and division or to promote the overthrow of the government. The government employs thousands to monitor sites, filtering for unwelcome content.
Keywords like "Tiananmen" and "Tibet" are tracked. Web sites, such as the video-sharing site YouTube, and media outlets, including CNN.com, are routinely blocked.
On Tuesday, Chinese censors blocked access to the micro-blogging site Twitter, as well as the photo sharing site Flickr and others.

China has also shut down more than 6,000 online message boards affiliated with colleges and universities ahead of the Tiananmen anniversary, the Hong Kong-based Information Center for Human Rights and Democracy said.
"You tell me. Would those be actions a government would take if activism among young people was truly dead?" said "Andrew," a 25-year-old office worker. "Our country is like our national animal, the panda. It is slow to change, but change will come. We're making sure of it -- but just quietly."
E-mail to a friend

CNN's Jaime FlorCruz and Emily Chang in Beijing and Saeed Ahmed in Atlanta contributed to this report.
All About Tiananmen Square • China • Beijing