(CNN) -- A Jetstar flight with 203 passengers and crew aboard landed safely in Guam early Thursday after a fire broke out in the plane's cockpit, the airline said.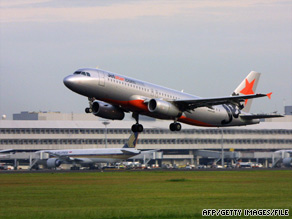 A JetStar passenger jet takes off from Changi Airport in Singapore in this 2007 photo.
"It is understood there was smoke in the cockpit followed by the right hand cockpit window area catching fire before being extinguished" about four hours into the flight, according to a statement from Jetstar.
Flight 20 was en route from Osaka to Australia's Gold Coast when the problems developed.
The plane was an Airbus A330 -- the same model as the Air France plane from Rio de Janeiro to Paris plunged into the sea with 228 passengers and crew on board last week.
A replacement jetliner was set to retrieve the passengers and take them to Brisbane International Airport.
The fire in the Jetstar plane follows a similar incident in the cabin of an American Airlines Boeing 767 on Tuesday evening.
Flight 64 was on its way from New York to Zurich, Switzerland, when "some kind of fire" broke out, forcing the landing in Nova Scotia, a representative of the airline said. There were no injuries and the flight later continued to Switzerland with a replacement aircraft.
E-mail to a friend