(CNN) -- China's remote Xinjiang region, hit by violence that officials say has left scores dead, has seen a recent surge in unrest involving ethnic Uyghurs.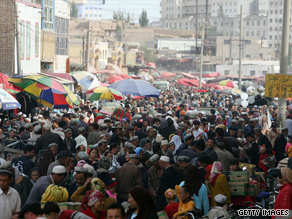 A file picture shows the main bazaar in Kashgar, western Xinjiang province.
The Uyghurs are a mainly Sunni Muslim group found throughout Xinjiang, a vast and arid territory that straddles the ancient Silk Road trading route and forms China's western borders with Kazakhstan, Kyrgyzstan and Pakistan.
With a distinct culture and Turkic-based language, Uyghurs are guaranteed equal rights and limited autonomy under China's constitution, however ethnic tensions run deep. Some Uyghurs feel threatened by the steady influx of migrants from China's overcrowded east.
Millions of Han Chinese, the country's dominant ethnic group, have migrated into Xinjiang over the past 60 years, prompting complaints that they dominate local politics, culture and commerce at the Uyghurs' expense.
The dissatisfaction has turned violent at times, including a major flashpoint in 1992 when several buses were bombed in Urumqi.
Don't Miss
Beijing has blamed such incidents on Uyghur groups seeking an independent Muslim state, but China insists few Uyghurs support the separatists.

The government has launched sporadic crackdowns on what it says are terrorists operating among Xinjiang's 19 million people. Ahead of the 2008 Beijing Olympics it said it thwarted two plots involving Uyghur militants.
Human rights groups have accused the communist government of using anti-terrorism operations as a pretext for suppressing the ethnic group, charges Beijing has denied.
E-mail to a friend

All About Xinjiang Uighur • Xinjiang Uygur Autonomous Region • China