ISLAMABAD, Pakistan (CNN) -- Six people were killed in Pakistan on Saturday when Muslim demonstrators set fire to houses in a Christian enclave and fighting broke out, local police said.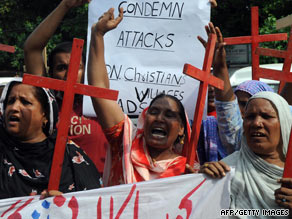 Pakistani human rights activists in Lahore protest on Saturday the anti-Christian violence in Gojra village.
Police said Muslims were enraged over an alleged desecration of pages in the Quran at a Christian wedding last Saturday, and held a rally to protest. The Quran is the Muslim sacred text.
The Muslims went to the Christian community in Gojra City, 160 kilometers (100 miles) southwest of Lahore, and burned 40 to 50 houses. Muslims and Christians exchanged gunfire.
Police said efforts to settle the concerns with dialogue so far have failed.
On Thursday, 15 Christian houses in the region were also torched.
Pakistan is predominantly Muslim but has a small Christian community.
Meanwhile, police in Islamabad reported Friday that an al Qaeda member thought to be involved in several attacks was arrested.
Bin Yamin, a senior police official in Islamabad, identified the suspect as Rao Shakir Ali.
Police believe he was involved in strikes on targets such as the Danish Embassy, a rally of Chief Justice Iftikhar Chauhdary, police, and a hotel.
The suspect is a resident of Sargodha, which is 165 kilometers (about 100 miles) northwest of Lahore and has a house in Rawalpindi that has been used to facilitate insurgent acts, police said.
E-mail to a friend

Journalist Nasir Habib contributed to this report.