By Pauline Chiou
CNN





SHIAO LIN, Taiwan (CNN) -- Grieving Taiwanese families held roadside memorial services Saturday to honor those killed by Typhoon Morakot.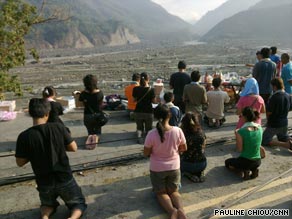 Mourners kneel and pray to the dead as they face the devastated valley of Shiao Lin.
Weeping loved ones set up homemade shrines near devastated villages to calm the spirits of the dead and honor the belief that their souls will return home after seven days.
"Grandma, my big brother, when you hear my voice, follow me," one man cried out.
Following Taiwanese tradition, gifts were provided for the afterlife: paper money for security, food for sustenance and toys for the children. Women called out the names of dead relatives, urging them to comfort each other.
Mourning ceremonies on the seventh day after death are a part of Taiwanese folk tradition, according to Yeh Rong Nan from the nearby town of Jia Shian.

Watch mourners call home souls of the dead »
The "first seventh" is a day when families call out to the spirits of the dead to calm them and bring them home.
Taiwanese believe when a person dies, they are unaware of their death and their soul wanders. It is the responsibility of the living families to guide the departed, and if the souls don't come home by the seventh day, they become ghosts.
Morakot hit the island last weekend, dropping 102 inches of rain. The storm roared on to mainland China on Sunday, killing at least six people and displacing 1.4 million, authorities said.
The toll was much higher in Taiwan, where the storm was blamed for killing 123 people, according to the latest figures from Taiwan's National Disaster Prevention and Protection Commission.
Mary Yu, spokeswoman for the commission's Central Emergency Operation Center, said 53 people were unaccounted for.

Watch rescue efforts in Taiwan »
At least 1,375 people awaited rescue in towns inaccessible to rescuers who have faced torrential downpours, dense fog, rugged terrain and raging rivers. Washed-out roads and bridges have made some rescue operations impossible, the disaster commission said.
Don't Miss
Despite the obstacles, 2,518 people were rescued on Saturday, Yu said.
The U.S. will send food, portable shelters and other aid items to Taiwan in the coming days, U.S. Defense Department officials told CNN on Saturday. The USS Denver, which carries at least two CH-53 heavy-lift helicopters and has water-making capabilities on board, will head to Guam or Okinawa, Japan, in the coming days where it will pick up the aid and deliver it to the storm ravaged region.
Southern and central Taiwan were hardest hit by the storm.
Mudslides inundated some places in southern Taiwan, including the village of Shiao Lin, where 160 homes were lost. Authorities believe hundreds of people could be trapped under five stories of mud in the village.
On a road overlooking the former town, Tsai Sung Yu pointed to where his childhood home was.
"My school, my family, my house -- it's gone," the youth said.
A memorial service was being held under a tent where framed pictures of the dead were crowded on tables.

"He's gone, he's gone, that one's gone, all these grandchildren are gone," said a tearful Yu Chin Chih. She lost 10 members of her family.
"We went to Shiao Lin village for the first time yesterday to look for their bodies. But then I realized there's nothing you can do. We couldn't find them," she said.
E-mail to a friend

CNN's Senior Pentagon Producer Mike Mount contributed to this report.