KABUL, Afghanistan (CNN) -- Afghanistan's opium production dropped dramatically this year partly because of new aggressive drug-fighting tactics in the country, a United Nations study found.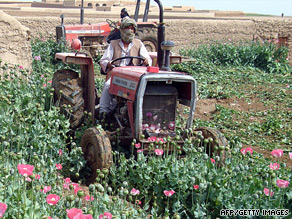 Afghan police officers use tractors to destroy poppy crops in Helmand province earlier this year.
According to the report from the U.N. Office on Drugs and Crime, production dipped by 10 percent this year, while cultivation fell by 22 percent.
"At a time of pessimism about the situation in Afghanistan, these results are a welcome piece of good news and demonstrate that progress is possible," said Antonio Maria Costa, the office's executive director.
The United Nations notes that drugs originating in Afghanistan have "catastrophic consequences."
"They fund the activities of criminals, insurgents and terrorists in Afghanistan and elsewhere. Collusion with corrupt government officials is undermining public trust, security and the rule of law.
"Widespread money-laundering is harming the reputation of banks in the Gulf and farther afield," it said.

Watch U.N. official discuss concerns about opium stockpiles »
The report, released this week, attributed the decrease to better government leadership, aggressive counter-narcotics tactics, a push for farmers to grow legal crops and pressure from NATO-led soldiers.
This was the second year that the production of the opium, used to produce heroin, had dropped in Afghanistan. The study found 20 of the 34 provinces in Afghanistan were now free of opium farming.
The most significant drop this year was in Helmand province, the volatile southern region where NATO-led forces are battling with militants. In that opium hotbed, cultivation dipped from 103,590 to 69,833 hectares (255,976 to 172,561 acres).
But even with this seemingly good news, some fear that drug traffickers in Afghanistan are preparing to fight back. According to the report, researchers found evidence strong drug cartels, similar to ones seen in Colombia, were being formed by participants in Afghanistan's drug trade.
"A marriage of convenience between insurgents and criminal groups is spawning narco-cartels linked to the Taliban," Costa said.
Incentive programs giving local farmers seeds and training in growing legal crops represent a key tactic in the fight against drugs.
Local farmers in Helmand are being trained at a facility ran by the U.S. Agency for International Development.

Farmers like Abdul Qadir said programs like this one are key to bringing peace to war-torn Afghanistan.
"These countries that are here, why are they with guns and bombs? If you can just help the people of Afghanistan in this way, the fighting will go away, these Taliban and other enemies of the country will also disappear," Qadir said.
E-mail to a friend

CNN's Atia Abawi contributed to this report.
All About Afghanistan • Helmand Province