(CNN) -- A passenger on a ferry that capsized Sunday in the Philippines has been rescued after being in the water for more than 24 hours, officials said.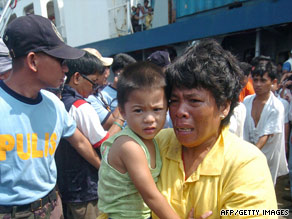 A woman and child arrive Sunday in Zamboanga after being rescued from the ferry sinking in the Philippines.
A helicopter rescued Lita Casunglon, said Perfecto Eden, commander of the Philippine coast guard, but he had no additional details.
Another member of the Philippine coast guard, Aquileo Gonzalez, confirmed that Casunglon was rescued after 24 hours in the water and taken to a hospital.
Nine people were killed and 957 rescued after the SuperFerry 9 capsized Sunday in the Philippines, officials said. Casunglon apparently was one of two people who had not been accounted for; the fate of the other was not immediately known Monday.
The ferry took off from the General Santos City and was bound for Iloilo City.
Survivors and their families received medical help and other assistance Sunday, the coast guard said. An investigation will be conducted after rescue operations are completed.
It was the third major incident involving the SuperFerry 9 in three years. No fatalities were reported in the other cases in 2006 and 2007.
Meanwhile, a Panamanian cargo vessel sank off the central coast of the Philippines. The 20 people on board -- 18 Filipinos and two South Koreans -- were rescued, the Philippine coast guard said.
E-mail to a friend

Journalist Cecilia Lazaro contributed to this report.
All About Philippines • Philippine Coast Guard