BEIJING, China (CNN) -- No dangerous viruses or chemicals were found in the samples from a series of syringe stabbings that recently triggered unrest in China's western city of Urumqi, state-run media reported Sunday.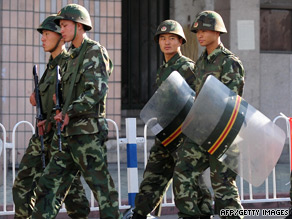 Chinese troops patrol the streets of Urumqi.
China's Academy of Military Medical Sciences found that none were tainted with radioactive substances, toxic chemicals or the AIDS virus, Qian Jun, head of the academy's disease control and biological security office, told reporters, according to China's Xinhua news agency.
No illnesses or infections have been found in needle attack victims, Qian said, citing medical experts.
The syringe attacks began August 17, a month after long-simmering resentment between minority Uyghurs and majority Han Chinese erupted into riots and left more than 200 people dead.
Authorities have confirmed more than 530 victims of the attacks in Urumqi, Xinhua reported. Most victims were Han Chinese.
Also on Sunday, more than 600 people took part in a demonstration by the Hong Kong Journalists Association and Foreign Correspondents' Club. The march for press freedom in Hong Kong was called to protest the beatings of three journalists from that city while covering the attacks and the unrest in Urumqi.
Xinjiang provincial authorities blamed the journalists for inciting the unrest and bringing the violence on themselves.
Don't Miss
The journalists' group called for an investigation into the beatings, a stop to "all suppressive actions against the media," in line with China's constitutional guarantee of press freedom.
China has struggled to maintain stability and order in its far west.
On Saturday, three people were sentenced to up to 15 years in prison in connection with the stabbings in Urumqi.

Watch report on unrest in Urumqi from CNN's John Vause »
Uyghurs are accused of using hypodermic needles to stab hundreds of people from several ethnic groups, including Han Chinese. Many victims had to be hospitalized, authorities said.

Police had promised harsh punishment for whoever was convicted in the stabbings -- life imprisonment or the death penalty, government officials said.
The Han Chinese are the country's dominant ethnic group. The Uyghurs are a Turkic-speaking Muslim minority who consider Xinjiang their homeland.
E-mail to a friend

All About China • Xinjiang Uygur Autonomous Region